A Look Into The Underworld of Technology Piracy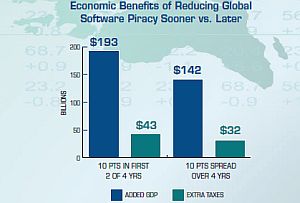 A day in the life of...Nehru Place. Apple's Snow Leopard retails for Rs. 300 or roughly $7 here. The MS Office that sells for a couple of hundred rupees can be installed on unlimited machines. iPads rejected by Apple sell here, coming straight from China, and selling for several thousand rupees below the going market price. "The product is the same, so why bother to buy an original?" argues the owner of a shop named after an Indian goddess. A tsunami in Japan means printer prices shoot up. "Supply and demand, samjhe na", says the sales rep at a printer shop. He does not have a product catalog. Menu prices do not work here; Canon, Epson, Brother, and HP printers retail for a different sum every day depending on market conditions. $200 buys you a 'new' desktop; okay, so it may have old parts, concedes the owner of a shop, also named after an Indian idol, the Lord Ganesha this time. "But the machine is brand new," he hurries to explain. "People buy here all the time."
Not only is pirated software, including enterprise software like Oracle Database 11g, up for grabs here in Nehru Place, just across a Microsoft India office; but if you pay a few hundred rupees extra (less than $100), someone will come and retrofit your home or work with a variety of software, all pirated. If you are so inclined, you can even arrange some sort of a service contract where you will get help if there are maintenance issues with the bundle of pirated software you have just bought.
The Cover
I am not comfortable with lying. Besides, I blush if I am bluffing, an easy tell. This time though, I was lying through my teeth.
A business manager from Calcutta, that was the cover. We were trying to understand more about the Indian gray market, as part of a Techcircle.in special report (you can expect many more such reports from us in the coming months). To that end, I spend a day in Nehru Place, New Delhi, trying to buy counterfeit products for a 15-seater call center we were supposedly setting up in Noida. Introduce yourself as a reporter, and people clam up here, sometimes to the point of hostility. That was a lesson I had learned the hard way as a rookie tech reporter for a popular IT publication group.
The market at Nehru Place is actually a cluster of buildings huddled together - Siddharth Building, Kundan House, Bajaj House - to name a few. The buildings house a variety of shops, computers and cell phones-related for the most part. The area inside the market also has shop owners peddling their ware on the courtyard-like space or from the labyrinth of stairs.
New Delhi, of course, is not the only city in the country to have a thriving gray market. Most large Indian cities have a pocket in or around the central business districts that sell used, smuggled, stolen hardware and pirated products (software included). If Delhi has its Nehru Place, and Palika Bazaar, there is Ritchie Street in Chennai, Burma Bazaar in Bangalore, Chandni/Kidderpore in Calcutta, and the Flora Fountain area in Mumbai.
Don't Show Me The Money, Honey
If we look at Oracle's global pricing and licensing, for example, the company's database product updating, licensing, and support costs range into several thousand dollars. If you are buying from Nehru Place, pirated Oracle software will set you back a few hundred rupees for unlimited installations, around $20. Snow Leopard costs between Rs. 300 to Rs 500 ( $7 to $11). Office 2011 costs around Rs. 500 (less than ten dollars). Rewind back to a few years, when Windows XP would retail for Rs 250 here. Prices have gone up a little since then, by a couple of hundred rupees or less than ten dollars over the last seven years or so for each title pirated.
More than half of the software in India is pirated - 65 out of 100 copies of software to be exact. According to a study titled 'The Economic Benefits of Reducing Software Piracy' conducted by the Business Software Alliance (BSA) and IDC, reducing the 65 percent software piracy rate in India by 10 percentage points over four years would create over 59,728 high-tech jobs, $4.6 billion in new economic activity, and close to $512 million in new taxes by 2013, with 76 percent of those benefits expected to remain in the local economy. Victor Lim, Vice President, Asia/Pacific Consulting Operations, IDC, said, "Because IT distribution and services are local and specific to each economy, much of the revenue generated through reductions in software piracy would be captured at the local level."
Yes, piracy is illegal, and it ends up costing companies a lot of company. However, in the absence of adequate open source software and support, a huge number of first time PC buyers especially in tier two and three cities, and small business owners, opt for pirated software. Entry-level personal computers are cheap, but branded PCs still retail higher than assembled machines. Smaller vendors who assemble computers on demand, throw in the prospect of a free software bundle as part of the whole deal. While not strictly on the level, it seems so do sellers of branded PCs. So while the Windows software may be genuine, the Office suite comes 'free', and a couple of games are thrown in, if you have kids at home.
What Software Gets Pirated?
Pretty much everything. People who trade the CDs have a printed list of software titles they can sell right then and there. If you need something they do not have in hand, that can easily be arranged, albeit at a cost, and after some time.
Some of the products and brands readily available include: Adobe products - Photoshop, Dreamweaver, Lightroom, AutoCAD, Autodesk, STAAD.Pro (Bentley), BizTalk Server, CATIA, Microsoft Exchange Server, IBM Lotus SmartSuite, MS Money, MS Office, Norton Anti-virus, various Oracle database products, Pinnacle Systems, Windows. Tally, a popular software for bookkeeping and finances sells for Rs 100. There are GMAT and GRE prep CDs, games, industrial design applications, antivirus software, and Internet utility tools, among other things. If Mac versions of a software is available, those too can be had, at a slightly higher price.
Teen is King
Teenagers in rags are not an uncommon sight in India. We are a developing country, after all. This particular kid was different. For starters, he had a bunch of CDs tucked under his t-shirt (blue 'Addiddas', diligently patched with red thread). Then there was the fact that he was saying he hoped Steve Jobs would get better soon. "Issteve Jobs beemar hai (Steve Jobs is sick)," he was telling me. "Apple ka software nahi bikega Issteve ke bina. (Apple software will not sell if Steve is not there)."
A little earlier, I was asking him if he could get me a copy of Snow Leopard. "Mac OS 10.6?", he had asked me back without batting an eyelid. Turns out he did not have it on him at the moment, but could arrange for a CD in an hour or two. Cost? Rs. 500. He seemed upset at the prospect of Jobs falling sick. "What is your name?" I tried asking him. "Sonu", he mumbled after some quick thinking. I was pretty sure he would be something else to the next interested customer who cornered him. Most people who vendor pirated software are young, the eldest of them would be in his early 20's, and they have no names or fixed address to identify them by. What you will get is a first name, and a cellphone number. Ask any more questions, and he will make polite excuses and walk away. And then, be rest assured, nobody else will be willing to open up for a discussion. Bad news travel fast in Nehru Place, and journalists or nosy visitors are occupational hazards these people have learnt to stonewall. If they see the cops, they run on their young legs for the fastest cover. The escape sequence is well choreographed, and the escape route rehearsed.
I estimated there were around fifteen people selling pirated software the day I went. This number does not mean anything, as the people who do sell the software do not carry the loot with them, which means the guy innocently standing next to a sweet shop may well be selling pirated software. For all we know, there may be double, or even triple that number in any given day. The people who sell pirated software may be working in shifts or rotations. I have been writing on IT for some nine years now, and have been to Nehru Place several times. I have not seen the same face twice.
Each of these sellers have a list of software titles tucked up discreetly in their person. I requested for a copy from one of them on the pretext that I needed to show it to my boss. He came back with a photocopied duplicate, and was kind enough to give me his original cheat sheet. It consisted of a 5-page printout of titles. The list included a total of some 220 names, I later calculated. According to the list, his name was Rajpal Yadav, which also happens to be the name of a popular actor of the Indian screen. As if in further testimony to Bollywood, "Jay Ho" was printed in bold on page two.
What I found interesting was, all the sellers who offered pirated software had the same sheet on their person (I offered to take a look at the list in several instances. The lists were copies made from the same Master alright, down to the font size and type, and unique spellings like GRE-Pitorson. This could imply that all these people work for the same person or organization.
Usually the sellers are found in groups of two's and three's. One person would be standing a few feet apart from the other. If the customer requested for a CD, one of them would go and fetch it from somewhere inside the buildings, while the other would continu to chat up with the buyer. This arrangement also helps in the case of a police raid, I would say, if I were to hazard a guess.
What About Hardware?
Factory rejects from Apple manufacturers in China end up straight in India. iPhones and iPads are high in demand. iPad2 is not yet available. "Give it a few more days," a gentleman identifying himself as Arun says. The iPad was available on the gray market before it officially hit the shelves, he boasts.
An unlocked iPhone without bill sells in the region of Rs 18,000. A 32GB iPad goes for Rs. 45,000. These prices are fluid, and there is scope for bargaining. While the shop keepers argue the products are original, and they may well be, legalities apart, buying from the gray market is not an entirely safe bet. in case you were wondering. You will not have any warranty, and if something goes wrong, getting it serviced will be really difficult.
Gray market trade in desktops, notebooks and cellphones have declined over the years, as the market get flooded with cheaper entry-level products from name brands. Having said that, small businesses, like the 15-seater call center I said I was representing, tend to get their PCs assembled. A Pentium 4 desktop will cost you Rs. 8,500. It will look new, but will have second-hand components.
Where Do The Gray Market Merchandise Come From?
Auctions by the government and various business houses. A significant share is smuggled from Taiwan and China, including factory rejects which should not have entered circulation. Thirty million computers are thrown out every year in the US alone, and many are dumped in India and China, says BBC.
According to a media release issued by the Centre for Science and Environment (CSE) India generates about 350,000 tonnes of electronic waste every year and imports another 50,000 tonnes. Computers are stripped down, and whatever can be salvaged is sold off, and the rest incinerated. These components are resold and enter the channels as parts of 'new' computers.
It is indeed a jungle out here, as Mr. Monk keeps on insisting. Be careful, or you could end up buying 'original Google software' in a CD for a few rupees. Or a notebook for Rs 3000 that may not last more than a couple of months. There is honor among thieves here, but only if you can prove yourself not to be an easy mark.
Sudarshana Banerjee is Contributing Editor with Techcircle.in and VCCircle.in. She has been writing on technology issues for around a decade, and is based out of San Jose, California.
Comment(s)