Northgate Technologies Plans To List Bharatstudent.com; Set Up Separate Entity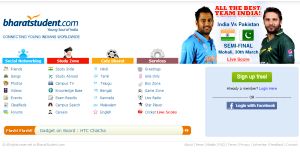 Bharatstudent.com, a networking portal for students by Hyderabad based Northgate Technologies, is readying to go public, Business Standard reports.
Northgate suffered a bad spell between 2009 and 2010. In the year ended March 2010, the company had accumulated losses of more than fifty percent of its net worth. Chairman and Managing Director Venkat S Meenavalli shared that the company had to shut down its offices in Beijing, Hong Kong, Singapore, San Francisco and India to "stop further loss of capital".
The company in 2010 initiated the liquidation of its UK subsidiary Axill Europe Limited (AEL) as a way to bring its Internet-related operations to a "sustainable level" in line with the group's reduced scale of operations in this segment, according to its annual report.
A glance at its recent financial status shows the group has managed to generate profits in the recent quarter. Northgate registered a net profit of Rs 80.81 lakhs on revenues of Rs 2527.94 lakhs in the quarter ended December 2010. In the same quarter, the group raised Rs 2870 lakhs by issuing 14,000,000 equity shares through Qualified Institutional Placement. And in the previous quarter (July-August-September 2010), the net losses registered by the group stood at Rs 8.56 lakhs.
Besides Bharatstudent.com, Northgate Technologies also runs Ziddu.com, a file hosting service, an Internet advertising tool called Axill and Globe 7, a VoIP service. In September 2010, it acquired 51% stake in Green Fire Agri Commodities Pvt Ltd, a commodity investment firm, for Rs. 800.33 lakhs. Subsidiary Social Media also has a social media planning division called SMX.
In a step towards listing the portal by early 2012, Northgate will be separating Bharatstudent into a stand alone company and has initiated the process of restructuring the company, Vishal Gurnani, director, Social Media India told Business Standard.
Online advertising & Bharatstudent
A networking site aimed at the student community, Bharatstudent.com claims it receives 7 million visitors per month. There is no available data on the number of registered users of the community.
Bharatstudent, along with the other websites by Northgate, generates revenues for Northgate via Internet ads. In the quarter ended December 2010, the company earned 1378.60 lakhs from online advertising across its various sites, including Bharatstudent.com. Online advertisements reported net profit of Rs 108.25 lakhs in the recent quarter, compared to a net loss of Rs. 7702.66 lakhs in the quarter ended December 2009.
Online advertising revenues for Northgate declined to Rs 3305.94 lakhs during the year ended March 2010, from Rs 56,034.27 lakhs in the previous year. The group incurred losses of Rs 14,698.44 lakhs during the year ended March 2010.
Other websites for students include Shiksha.com by Info Edge India Ltd which runs top recruitment site Naukri.com; MBA community site Pagalguy.com; Minglebox.com by Bangalore-based Minglebox Communications Pvt. Ltd.; Top Careers & You's TCYonline.com and Indiaeducation.net by Jaipur-based Pragati Infosoft Pvt Ltd which also owns news site www.IndiaEduNews.net and www.ExamResults.net.
Comment(s)