Hungama Launches Cricket Stock Exchange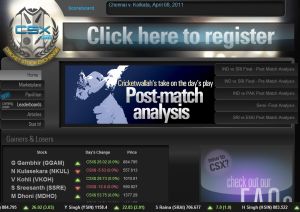 Hungama Digital Entertainment has launched the Cricket Stock Exchange (CSX), an online game which works like a stock exchange where one can trade shares of favorite teams and players instead of shares. CSX has been developed by Hungama Game Studios in partnership with cricket analyst Ayaz Memon.
The site can be accessed by logging onto cricketstockexchange.com with updates also available on Facebook. When the IPL starts, CSX will be available on Facebook as well.The Cricket Stock Exchange starts off with enthusiasts logging in and starting off with CS$ 20,000, the official virtual currency of the Cricket Stock Exchange. Users go on to buy shares on the basis of availability and current prices.
Consumers can make money via trading and also participate in the pavilion via SMS to make money on CSX.
If the Cricket Stock Exchange reminds you of HSX or the Hollywood Stock Exchange, you are not far off.
Incidentally, a free sign up with HSX also entitles the user to a virtual $20,000 in HS$ to start one's portfolio with. HSX syndicates the data collected from the Exchange as market research to entertainment, consumer product and financial institutions and as original content to radio, television and print media. Founded in 1996, it is now a subsidiary of Cantor Fitzgerald, L.P, and headquartered in Los Angeles, California.
Comment(s)