Geometric appoints Manu Parpia as MD and CEO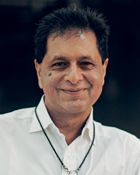 The Board of Geometric (BSE: 532312, NSE: GEOMETRIC) announced the appointment of Manu Parpia, founder and vice chairman as the managing director and CEO of the Company during a Board Meeting. Parpia will take over the position from Mr. Ravishankar G., who resigned for personal reasons. The appointment will be subject to necessary statutory approvals.
Parpia has over 30 years of experience in the industry, with over 21 years in the PLM and Engineering arena. He holds a Bachelor's degree in Chemical Engineering from McGill University, Canada and an MBA from Harvard Graduate School of Business Administration, USA.
Geometric is a key player in the domain of engineering solutions, services and technologies. Headquartered in Mumbai, India, Geometric was incorporated in 1994 and is listed on the Bombay and National Stock Exchanges. The company recorded consolidated revenues of Rupees 5.11 billion (US Dollars 108.1 million) for the year ended March 2010.
Comment(s)