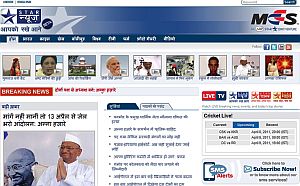 The broadcast and digital venture by Star and ABP, Media Content and Communications Services, has launched new websites for STAR News -- Starnews.in and Hindi.Starnews.in.
They are separate websites to cater to both English and Hindi audiences and the company has dedicated content teams for each site, afaqs reported.
MCCS is a 74:26 joint venture between Anandabazar Patrika TV, which is a subsidiary of Kolkata based media house ABP Pvt. Ltd, and STAR News Broadcasting Ltd of the News Corporation owned STAR India Pvt Ltd.
MCCS broadcasts Hindi news channel STAR News, Bengali news channel Star Ananda and Marathi news channel Star Majha. It also operates the digital properties Starmajha.com, Starananda.in, Staranchorhunt.Com for the program that runs on Star News as well as mobile TV services on Vodafone, Airtel, BPL, Reliance Communications, Reliance Telecom, Tata Indicom, BSNL, and MTNL.
The websites showcase videos from the channel and will offer content on sports, crime, and movies along with live news.
---