Exclusively.in Launches Travel Section With Four Deals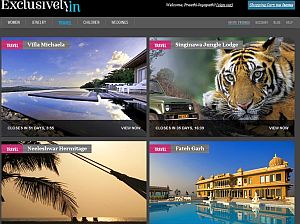 Fashion flash sales site Exclusively.in is now moulding into a complete lifestyle-oriented site, offering travel deals to its users.
The website gives its members discounted rates at select luxury hotels and resorts in India under a subsection called Travel.
Although it currently has only four deals on board, the company is now ramping up on the supplier side to add more hotels and resorts. It is working directly with the hotel and hospitality sector and not partnering with any online travel agents in India, CEO Sunjay Guleria told Techcircle.in.
Guleria explained how the travel foray would fit into the fashion offerings on which the site has so far been focused. "We have come up with lifestyle offerings across the board and already bring to people multi-category offerings including apparel, accessories, jewellery and home décor. So, luxury travel was the next step," he said.
The company will target NRIs and global travellers who are interested in the Indian sub-continent, and will soon be offering deals for the South-East Asian countries as well.
The new section called 'From Palaces to Paradise' had been launched on April 8. Some deals up on the site are a safari adventure in Singinawa Jungle Lodge at the Kanha National Park, a sojourn to Udaipur's heritage hotel Fateh Garh and a visit to Villa Michaela, a beachside resort in Kerala.
The Singinawa deal is for $369, 61.7 per cent off from the original pricing of $965, according to the company website. The Villa Michaela deal will cost $1,095.
"We listened to our customer base and the consistent message was an interest in finding a unique way to explore Asia with luxury accommodations but at savvy prices," said Guleria in a statement issued.
Exclusively.in was launched in June last year and offers designer ware for the fashionable young NRI audience. The site is currently available to American consumers and it is yet to be launched in other countries like India. Also, it claims to have a 50 per cent month-on-month growth in membership and 200 vendors.
Comment(s)