E-Commerce Firms Spend Crores On TV Ads To Woo New Users Online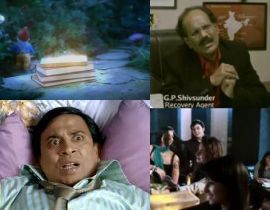 From domain name registrar BigRock's quirky Happy Recovery Agent ad to travel portal MakeMyTrip's use of an amnesiac who only remembers his exotic vacations and Flipkart's fairy tale theme, there is a spurt of promotional campaigns from online companies, keen to step up their branding efforts on the telly this year.
Book retailer Flipkart.com launched its ad on April 1 and within the very first week, the firm claimed a 'healthy' rise in traffic and purchases on the site. However, numbers were not provided by the company.
"There exists a large segment of Internet users who are reluctant to shop online. Our campaign is aimed at making these shoppers aware of Flipkart and its ability to deliver over 10 million books right to their doorsteps. The key message is selection and convenience, which is intrinsic to this shopping format," said Sachin Bansal, CEO and co-founder of Flipkart.com.
The main objectives of Flipkart's campaign are to get non-buyers to start buying online, as well as to create visibility for the Flipkart brand. Now the company is planning a couple more ad campaigns for the year. The initial ads are meant for mainstream English language channels, but the company has a Hindi ad in the pipeline as well.
In December, 2010, daily deals site SnapDeal launched its ATL campaign to reach out to new users. By partnering with youth-focused channels such as MTV and Channel V, the website managed to reach 40 per cent of its target group.
The campaign worked for the company and helped add almost one million subscribers in a span of 35-40 days, according to Kunal Bahl, founder and CEO of Snapdeal.com. This year, he intends to invest Rs 10 crore on advertising, thus mirroring the promotional spend of BigRock.
BigRock, a company that offers website design and management packages, needed to reach out to individuals, small businesses and professionals who want to set up websites. Its television ads, released in February this year, are used as a launch pad and now the company hopes to grab 20 per cent of the web presence space in the next three years.
MakeMyTrip has launched its ad campaign 'Memories Unlimited' only 10 days ago. The campaign is all about unforgettable holiday experiences. Mohit Gupta, CMO at MakeMyTrip.com, explains the brand message. "MakeMyTrip is synonymous with providing the best holiday experiences at a great price. With this campaign, we are reinforcing our promise to deliver unlimited deals, destinations and holidays that will create unforgettable experiences for our customers," he said.
The company is running the campaign in Hindi and Tamil and on various channels including Star Movies, AXN, Star World, Star Gold, HBO, CNN-IBN, Times Now, CNBC-TV 18, Sun TV, NDTV, Zee TV, Sony Entertainment and Set Max. The company did not share the number of viewers of the ads so far, but said that according to its estimate, the ad is viewed by over 70 per cent of its target audience.
On what spurred them to choose the TV medium, Gupta says, "So far, our growth has been driven by marketing efforts focused on acquiring more and more customers, largely through online and offline marketing channels. With the Indian online audience and e-commerce reaching the critical mass, TV has emerged as an attractive media option for building the brand, as well as acquiring new customers."
Comment(s)