Institutional Venture Partners And Sequoia Capital Get Some More Sugar

Katie and Tom wrap up a busy Big Apple day. Jennifer Aniston directs a new movie. Kate Hudson takes her beachy bikini bod for a kayak ride. Victoria Beckham finally debuts bigger baby bump. Institutional Venture Partners (IVP), and Sequoia Capital pays $15M to the global media company, where it all gets reported.
Sugar Inc., a young global media company for women, completed a $15 million later-stage financing led by Institutional Venture Partners (IVP), and the company's original partner Sequoia Capital. Sugar intends to use the funds for brand extensions, acquisitions, and international growth, according to a release by the company. This round brings Sugar's total funding to $46 million.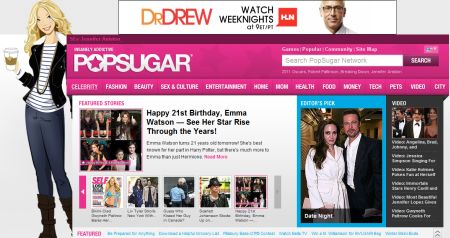 While $15M may not seem like a lot of moolah, it does mark an increasing trend of young media companies cropping up, often using low-cost or free content management systems or user-generated content, and posing a threat to traditional media entities. Sugar was founded by a husband-wife duo in 2006, and started its journey on a makeshift WordPress blog template.
Sugar has 190 employees and operations in the U.S., Europe, Japan, and Australia. It remains to be seen if any of Sugar's acquisitions and growth happens in the Indian subcontinent, where the audience, especially the young urban audience exposed to US television sitcoms, hanker for news on how their favorite TV stars live, and aspire to similar lifestyles. Incidentally, according to National Council of Applied Economic Research (NCAER) data, young Indians watch more TV than they read. According to a study commissioned by the National Book Trust (NBT) and conducted by NCAER, "a literate youth spends on an average 98 minutes daily viewing TV" and another 61 minutes dialy listening to the radio. The report also said these youngsters spend 70 minutes surfing the Net, 44 minutes reading a magazine and 32 minutes with a newspaper. That would add up to an average of almost five hours a day consuming one form of media or another.
Chances are if you walk into a Barista right now, you will overhear a group of college kids discussing Dexter's dilemma.
Comment(s)