Microsoft Launches Arc Touch Mouse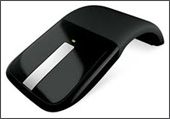 Microsoft has launched a uniquely designed mouse called Arc Touch in India for computer users.
The design is drastically different from a typical PC mouse, with a width of less than 15 millimeters.
Features of the mouse include a strip for scrolling which will perform a fast scroll when you flick the strip. It also features something called BlueTrack which allows consumers to use it on any surface. The Arc Touch integrates easily into Windows to launch Windows 3D Flip that enables a quick preview of all open windows such as open files, folders, and documents without having to click the taskbar.
"As the computing landscape evolves to offer new ways of interacting, such as touch screens and touch pads, the mouse is also evolving but holds true to its core purpose, in providing comfort and precision to users when navigating the PC. Although the computer mouse has become casino online more accurate over the years, there has been little change in the style of this common computer component. The inspiration for the Arc Touch came from wanting to better understand the refined and modern lifestyle of customers," said Satish Parreddi, Senior Category Manager, Microsoft Hardware.
The Arc Touch is priced at Rs 3600 and has a three year warranty.
The mouse will be retailed at 100 outlets in 10 major cities in India. Customers can also purchase it on Microsoft"s official shop MicrosoftStore.
Recently, Microsoft Corporation announced it will be investing 90% of its research and development budget in cloud computing this year.
Comment(s)