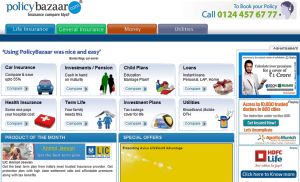 Info Edge (India) Ltd, one of India's dominant Internet-based consumer services firms which runs recruitment portal Naukri.com, informed the exchanges that it will invest Rs 10 crore in Etechaces Marketing and Consulting Private Limited, which runs Policybazaar.com, a website for financial products comparison.
The company is also on the verge of closing a round of funding from Intel Capital to the tune of Rs 30 crore, Medianama reported. PolicyBazaar CEO Yashish Dahiya told Techcircle.in that the company has been in discussions with Intel Capital for three months, and confirmed the amount, but refused to comment further. A spokesperson of Intel Capital too did not confirm the development to VCCircle.
This is Policybazaar's second round of financing. Info Edge has previously committed Rs 20 crore into the company in the first round of funding. This round takes the total investment by Info Edge into the company to Rs 30 crore. The company was close to becoming a subsidiary of Info Edge but with the upcoming investment by Intel Capital, this will not happen as Info Edge will no longer be the majority stake holder.
Policybazaar.com offers a comparison of various insurance policies and loans based on price, quality and key benefits on the website. It has 5 million registered users, who typically spend about 2-3 minutes on the website researching financial products such as loans and insurance options. They search through 2-3 pages per visit. Dahiya claims the site recorded a high of 5 million visitors in March 2011.
Currently, the website offers information to users to help them make a decision, offering content in various forms - top five features of a product, best sellers and conversion rates. On what makes the site unique compared to other insurance and financial product research and comparison websites, Dahiya said, "Our content is unique. I believe they are not doing ROI based comparisons. We see ourselves as a vertical search engine for insurance, and are trying to replicate Google's business. We are starting to take consumer feedback in terms of what they think of different products through reviews. It is also investing in the call centre, which supports the website and is an interim requirement.
Dahiya told Techcircle.in that Policybazaar will now focus on customer referrals, re-engagements, customer complaints on its website. "We want to deal with a broader range of people who visit, so we are investing in more intelligent, intuitive calculators for products and also in social side of the business, whether as recommendations or affiliate businesses, such as for loans where customers can refer one to their friends. On the complaints side, we will be responding to them online, in real time," he said.
Policybazaar will also invest in aiding insurance companies and the entire ecosystem develop by helping them shift their processes online. "We are investing a significant portion of our time and resources to handhold insurance companies who dont have their processes online," he said. The company says it is yielding results but there is still a need for insurance agencies to be more open about the online medium.
Dahiya adds that the emergence of serious competitors that are well funded and looking at the long term will also help grow the ecosystem and market. According to him, Policybazaar.com could go public by 2015.
The company is now in the process of hiring a Chief Marketing Officer. The online marketing spend by Policybazaar has reduced with 55% of traffic now driven without the need for advertising.
INFO EDGE
Info Edge has been actively investing in start-up ventures and consumer internet companies such as Applect Learning Systems Pvt Ltd, which runs Meritnation.com as well as restaurant listings site Zomato.com, (formerly Foodiebay) in 2010.
Info Edge recently decided to invest up to Rs 1 crore ($250,000) in Noida-based Nogle Technologies Pvt Ltd, which plans to launch a content sharing startup called Blinkk.me which is in its communication to the stock exchanges had earlier named the website as Ynotshare.com.
In 2010, Info Edge invested Rs 4.7 crore in Zomato.com, which began as a restaurant reference site and is now diversifying into new listing categories such as night life and events. After receiving the funds from Info Edge, Zomato is now currently in the process of sprucing up its services by developing mobile apps, integrating maps and branching out to new cities.
For the third quarter ended December, 2010 over the year ago period, the company had reported 40 per cent jump in net profit to Rs. 21.91 crore with an equally strong 27.5 per cent increase in operating revenues for the quarter. These numbers did not include earnings of its subsidiaries AllCheckDeals Pvt Ltd and Applect Learning that made losses last financial year.
According to the company, in the December quarter, two businesses – Naukri and 99acres performed well, benefiting from the business cycle and the improved competitive position. Income from recruitment solutions grew 24 per cent year on year while 99acres.com grew 74 per cent year on year, in the December quarter.
Info Edge is scheduled to announce its earnings for the most recent quarter on April 28.
Last month, BankBazaar.com, an online loan information and processing website, raised $6 million in its first venture capital round from global fund Walden International. In February, the Mumbai-based iGear Financial Services Pvt. Ltd, which runs MyInsuranceClub.com, raised its angel round of funding. Other sites include the Sequoia Capital and JAFCO Asia backed ApnaPaisa.com, i-Save, InsuranceMall.in, ApnaInsurance.com, Peacock Financial Advisors Pvt. Ltd's Getmeinsure.com, Click2Insure, Insurancepandit.com by A & M Insurance Brokers Pvt Ltd etc.
According to analysts, the next ten years will bring massive growth in the Internet sector in India supported by highly favorable demographics, growing Internet/broadband penetration, launch of one of the world's best 3G networks, growing middle class/income levels, noticeable pick-up in tech/gadget and mobile culture, and surge in home-grown Internet start-ups. India's Internet market is ten years behind US's and six years behind China's in terms of several key factors namely - overall Internet adoption, broadband penetration, Internet advertising, e-commerce, quality content, and sophistication & functionality of websites.
---