Comparing 3G Plans In Three Cities
After a long wait, 3G has finally arrived in India and all the top cellular service providers are doing their best to woo customers with attractive 3G plans. But with so many plans available, it's tough to choose that suits you the best. We take an in-depth look at the 3G services available in three major cities in India - Mumbai, Chennai and New Delhi. First a primer on 3G.
How is 3G different from 2G and 1G?
While 1G or first generation of wireless telephony networks, introduced in the 1980s, used analog signals, the 2G or second-generation wireless telephone technology used digital signals. 2G is superior in voice quality and so on and what we are currently using is 2.5G. But 3G or third generation wireless technology helps to simultaneously transfer both voice data (a telephone call) and non-voice data (such as downloading information, exchanging e-mail, and instant messaging). The highlight of 3G is video telephony.
How will 3G services help you?
It helps you access faster Internet from your mobile, upload and download heavy files, watch and download videos, and you can enjoy speeds upto 21 mbps. You can do high quality video calling and conferencing, see the person you are talking to; switch between voice calls and video calls and so on. Then there is voice and data convergence, where you can enjoy simultaneous voice and data sessions such as chat or email even if you are on a call.
Let's now take a look at the 3G plans available in Mumbai, Chennai and New Delhi. Currently only Bharti Airtel and Vodafone provide 3G services in all three cities while Reliance provides 3G it in New Delhi and Mumbai and Aircel in Chennai. We will compare the cheapest, costliest, Pay as you go and Video calling plans offered by them. (Although other cellular providers like Tata DOCOMO and Idea are present in 2G networks in the cities, they do not provide 3G services in them as of now.)
These are some of the 3G plans that are offered by the cellular providers in Prepaid , for detailed information about the plans you can visit Airtel, Vodafone, Aircel and Reliance Communications respectively.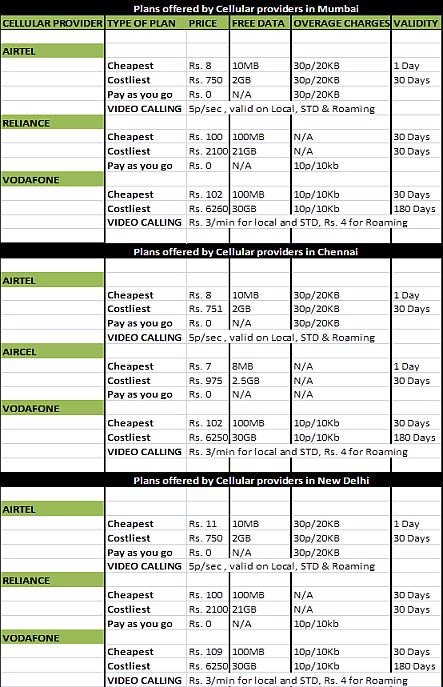 OUR VERDICT
If you are not a heavy internet user and are looking for cost effective plans, then you should opt for Airtel 3G Services since it provides a variety of low budget plans but if you are looking for heavy duty browsing, downloading and video streaming then you should opt for Reliance.
Comment(s)