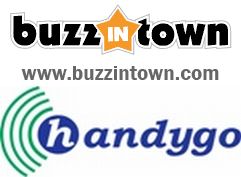 VAS provider Handygo Technologies Pvt. Ltd, has tied up with Buzzintown.com to offer Zing, a new SMS deals service.
Buzzintown.com currently provides event and deals information in 19 cities in India which includes metros like Mumbai, Delhi (NCR), Chennai and Bangalore. Zing will deliver information on deals, discounts, movies, events, food, nightlife, travel etc via SMS to these cities, according to afaqs.
"Zing is our latest offering for young India which constitutes more than 45% of the population. In order to provide credible and up-to-the-minute information to the subscribers, we have tied-up with India's biggest entertainment based information portal Buzzintown," said Praveen Rajpal, CEO, handygo Technologies Pvt. Ltd. Handygo recently partnered with Reliance Communications (RCOM) to offer the 'Behtar Zindagi' VAS to rural users.
Subscribers can also share information about the latest happenings in their neighborhood with friends through Club Zing. Since it is a push-based SMS mobile based service, subscribers will not miss out on any of the opportunities in their cities. Also they will not have to download applications or use GPRS on their handsets to access the information as it will directly be provided to the subscriber.
Amitabh Saran, CEO Buzzintown.com said "Now you have no reason to miss out on a theatre performance because no newspaper listed it… or hear about an exhibition, only two days too late. From now on all you need to do is check the in-box of your cell phone where all the events and happenings in your city will be sent to you!"
Most of the daily deal websites such as eBay.in, Snapdeal.com, Groupon India, Dealsandyou.com etc also deliver daily deals via SMS to most cities in India. Times Internet Ltd recently extended its mobile deals and discounts service Active Deals (Activedeals.mobi) to 25 Indian cities.
---