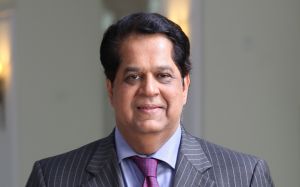 The Bangalore based IT giant Infosys Technologies has announced that KV Kamath will succeed N R Narayana Murthy as the new chairman of the company come August.
Chief mentor and chairman of Infosys N R Narayana Murthy will now take on the role of "Chairman Emeritus".
Major management changes announced in the notice include Kris Gopalakrishnan's appointment as the co-chairman on the board and S D Shibulal, the COO, is now the Manging Director and CEO, taking over from Gopalkrishnan.
These appointments are effective from August 21, 2011.
N. R. Narayana Murthy said, "I am thankful to the Nominations Committee for doing an admirable job of succession planning and continuing the Infosys tradition of a sound succession strategy. I am glad they have found a perfect team to strengthen customer, investor and employee connect on the one-hand, and world-class board governance on the other hand."
Murthy continued: "Vaman is, in my opinion, one of the finest corporate leaders of modern India. Kris has demonstrated high-class performance during testing times for the industry and the company. I congratulate Shibu on being appointed the Chief Executive Officer & Managing Director. I have no doubt he will do an excellent job like Kris did. Vaman, Kris and Shibu will make an ideal team. I am grateful to the Board for appointing me as the Chairman Emeritus and providing me an opportunity to add value to the Board, the Executive Management and every Infoscion if asked by them."
KV KAMATH
Kundapur Vaman Kamath has been an independent director on the board of Infosys Technologies since May 2009.
He is also the non-executive Chairman at ICICI Bank, one of India's top private financial banking institutions. He started his career in 1971 at ICICI, and became its Managing Director and CEO in 1996. He retired from that position in April 2009 and joined Infosys' board soon after.
K. V. Kamath said, "Infosys is an innovation-led company, with a core of outstanding professionals that has always set the highest standards and has built a unique culture. I feel greatly honoured to have been asked to be the Chairman of Infosys by the Board of Directors and accept this responsibility with a deep sense of humility."
Kamath was awarded the Padma Bhushan in 2008 and was also the president of industry body Confederation of Indian Industry (CII) for the year 2008-09.
Kamath studied mechanical engineering and is a graduate of the top B-School in India - Indian Institute of Management, Ahmedabad.
---