Bin Laden Death in the Times of Social Media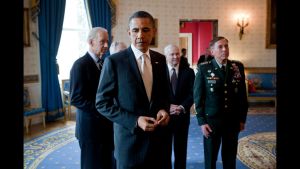 "Helicopter hovering above Abbottabad at 1AM (is a rare event)", tweeted IT consultant Sohaib Athar from Abbottabad, Lahore, Pakistan, where he was currently taking a break. That was 15 hours ago. "Go away helicopter - before I take out my giant swatter :-/" Athar tweeted soon after. A slightly panicked – "A huge window shaking bang here in Abbottabad Cantt. I hope its not the start of something nasty :-S" followed. He did not know it, but just a few hours later, Athar would go down in world history as the guy who had inadvertently tweeted the US raid against Osama bin Laden.
Athar's tweets provide a green-room view of the U.S. forces' special operations that led to the world's 'Most Wanted Man' for over a decade being shot in the head, and subsequently given a sea-burial, according to what officials say are his religious beliefs.
Revenge as a spectator sport Twitter has been swamped with discussions on Osama bin Laden. The popular microblogging site reached more than 4000 tweets per second at the beginning and end of President Obama's speech, says the company. No wonder its profile says – Talking to everyone, all at once!
A look at some of the Twitter conversations: Suhel Seth -  Al Qaeda issues a video where Osama confirms his own death at the hands of the Americans. Praises Zardari and Kayani for their loyalty...
Gul Panag - So finally after a decade, #9/11 has been avenged.The process having killed & maimed countless civilians. All 2 get 1 man.
Anand Mahindra - The most common question of 2011 will now be..'Where were you when Osama bin laden's death was revealed..?'
Steve Martin - Tonight, President Obama will announce that Clint Eastwood shot Osama Bin Laden.
Those who refrained from commenting (till the time of publication) include the otherwise vocal Shashi Tharoor, Amitabh Bachchan, Shah Rukh Khan, Preity Zinta, among others.
Obama's death was officially tweeted by the White House, which quoted Obama frequently, even as the U.S. President took full personal responsibility and credit for Osama's fate. Some tweets from the White House:
President Obama: "I can report to the American people and to the world, that the US has conducted an operation that killed Osama bin Laden"
"Obama: "Shortly after taking office, I directed…the director of the CIA, to make the killing or capture of bin Laden the top priority..."
Obama: "at my direction, the US launched a targeted operation…No Americans were harmed…After a firefight, they killed Osama bin Laden"
Obama: "the US is not – and never will be – at war with Islam…Bin Laden was not a Muslim leader; he was a mass murderer of Muslims"
The 44th. US President was not averse to tweeting himself. Just before his speech, Obama tweeted – "About to address the nation. Watch live: http://wh.gov/live."
Incidentally, Bin Laden has a Twitter account. The last tweet was on December 25, 2008. "GETOSAMA... Get Osama... XBox? English not good. Cave boring without XBox. http://www.msnbc.msn.com/id/22022565/". The account has 14,355 followers, and was opened on April 2007. Of course, comb Twitter, and you will find out Jesus tweets occasionally, as does Darth Vader. Needless to say, the accounts are not authentic.
Bin Laden and related searches were the leading queries in United States, reports Google Trends. In India, however, it was the IPL that took the search away. Mumbai Indians (MI) versus Kings XI Punjab was the hottest search in the country, followed by a hunt for Osama bin Laden's death photos, and news on him.
Check-ins increase Obviously, lots of people checked in at Ground Zero on popular location-based services like Four Square and Gowallah. Twitter and Facebook location-aware options have been turned on, and there have been several thousand check ins, though exact numbers are not yet available.
Impromptu party invites are doing the social media rounds. Stanford University students, for example, lit a bonfire at Lake Lagunita. Outdoor parties formed elsewhere throughout the United States.
Zero Sum Game A Facebook page called 'Osama Bin Laden is DEAD' has 289.982 likes, and the number is increasing by the minute. An increasing tend you will see in the Facebook pages – how polar the discussions and comments are, juxtaposed in uncertain peace one after the other.
To cite just one paradoxical pair from a series of comments: A Muhamad Sam Taufik says – Today we've lost a great warrior. Rest in peace Osama, we'll always love you. Immediately after, a Charlene Stannard posts, 'Rest in pieces you sick fucker!!!!!! Forever be tortured in hell." The comment is in All Caps (the Internet equivalent of shouting). Several of the comments, both rejoicing and dennouncing the death are vitriolic in nature, and peppered with expletives.
Of course, it is very easy to be a radical on the Internet. Say you believe in eugenics-based ethnic cleansing. Before the World Wide Web, you would meet people who would have opposing views, who would counter your thoughts, and perhaps temper your outlook. In the Internet world, you have the exclusive option to not interact with people who do not share your view points. You have communities and pages that are dedicated solely to whatever that may strike your fancy – from child porn to bomb making with household supplies. (To read more on this, pick up Jonathan Kellerman's 'Survival of the Fittest'. You may also want to take a look at 'The Psyhchology of the Internet', Patricia Wallace, Cambridge University Press).
Other Snippets from Facebook Walls: A: is mourning Osama. Sad news this.
B: Man who f***** Uncle Sam is dead
C: SCORE ONE FOR OUR TROOPS. GOOD JOB GUYS! THAT'S ONE LESS PIECE OF SHIT WE HAVE TO WORRY ABOUT. They should string up his corpse on the White House lawn as a warning to terroists. THIS COULD BE YOU! Lol
These comments are not isolated statements handplucked for our readers. These comments seem to typify the general sentiment of people posting messages, and mutual hatred is exchanged in a free for all.
Elsewhere Al Qaeda dealt severe blow by Bin Laden death, but global terror threat remains high, says INTERPOL. INTERPOL Secretary General Ronald K. Noble, while congratulating the US called for extra vigilance by INTERPOL member countries' law enforcement authorities to a heightened terror risk.
FBI updated its Most Wanted Terrorists website. Osama bin Laden's photo is labeled "Deceased". Robert William Fisher is now the most wanted man on the world. He is wanted for the murder of his wife and children, and blowing up their home.
Our own Central Bureau of Investigation website was silent on the subject. "Prime Minister Dr. Manmohan Singh today inaugurated the new CBI Headquarters" is the leading piece of news on the country's apex investigative body. Ironically, the news is four days old. But then, the Central Intelligence Agency (CIA) website is also silent on Osama. Its top featured story is on 'Earth Day At the Agency.'
If you want to see global newspaper headlines, you can do so on the Internet as well - http://www.huffingtonpost.com/2011/05/02/osama-bin-laden-dead-newspapers_n_856191.html#s272395 or http://newseum.org/
Also on social media - Somewhere else in the world, a royal couple goes on a weekend away.
Hello GoodBye Comments will be available on Facebook, and other discussion sites, mostly unmoderated, and instigate a new bunch of people to new hates. Images are not only imprinted in what Obama calls the 'national memory' in his speech today, but also etched permanently on hard drives for generations to come see. There is no forgetting.
We saw Kargil on cable, prime time. With one flick of the remote we changed channels, and watched a bloody Amitabh getting riddled with bullets in a Bollywood flick, just a few seconds later. Blood may have looked a dirty red on both the channels, almost the same, though the latter was ketchup, Kissan perhaps. We got to watch, but we did not get to participate.
The War on Terror on the other hand has been a war where you and I had to take part, whether we wanted to, or not, because the war swamped all of social Web – from email to networking sites . Abhimanyu Datta (name changed), also a fellow journalist, was forwarded a video of the beheading of Daniel Pearl over email by a concerned citizen. Inadvertently, as he retched up in horror, he was dragged in as a participant. A decade later, it is a prevalent trend to get invites to groups and communities started in the favor of one group over another. Facebook's privacy loopholes allow unwitting users to be added into random groups, for one.
We are all experiencing the direct aftermath of the war on terror, whatever it is, whatever that was.
Comment(s)