Samsung's Slimmer, Faster Galaxy S II To Be Launched In May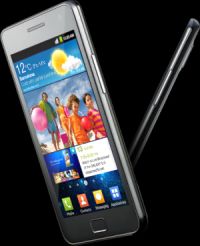 Following the success of its predecessors in the Galaxy Series, Samsung's latest mobile phone Galaxy S II promises to live up to and even exceed expectations.
The S II has a 4.3 inch Super AMOLED Plus capacitive touchscreen and 16 million colour display that will go a step beyond the already available Super AMOLED display in the Samsung Galaxy S.
AMOLED (Active-matrix organic light-emitting diode) displays are made from organic material and Samsung is a pioneer in manufacturing those for mobile phones. Samsung's Super AMOLED displays add a touch layer to the AMOLED display. Super AMOLED Plus displays are even better than the remarkable Super AMOLED, and ensures enhanced readability, sleeker design and better battery life. There will be vivid colour reproductions as the contrast ratio is very high and you can clearly see the separations of light and dark. It also boasts an ultra-fast response time, which makes for smoother graphics. Also, it has an internal memory of 16 GB or 32 GB which can be further increased with the help of a MicroSD card.
Whether the company launches the 1GHz version or the 1.2 GHz version of the Orion chipset in India (as it did in the UK) is yet to be disclosed. However, the S II will have a dual-core application processor.
Like the majority of smartphones available in the market today, Samsung Galaxy S II sports an 8 mega pixel camera with LED flash. It is capable of capturing high definition (HD) videos and also features a front-facing 2 MP camera. The phone will run on the android platform 2.3 Gingerbread OS and has 3D TouchWiz UX that ensures a futuristic user interface.
Lighter, faster, Slimmer The Galaxy S II is slimmer than the sleek iPhone 4 and Sony Ericsson Xperia Arc, making it one of the thinnest mobiles currently available in the market. The phone is lighter, faster and thinner than the Galaxy S, and even at the thickest point, this phone doesn't go beyond the 1 cm mark. The mobile phone will also house an NFC (Near Field Communication) short-range high-frequency wireless communication technology for contactless credit card payments.
As of now, the Samsung Galaxy S II is being pitted as the best android phone in the market, in close competition with the likes of Samsung Google Nexus S, HTC Incredible S and Sony Ericsson XPERIA Arc. But there is one device that may give Samsung Galaxy S II a run for its money and it happens to be the upcoming HTC Sensation. Read our review of the Sensation here.
The Galaxy S II is all set to be launched in India in May and according to Fonearena.com, the phone will be priced between Rs 30,000 and Rs 35,000.
Our Verdict The phone is lighter and sleeker but what Samsung should really focus on is to make it better-looking too. The home key is a real turnoff when compared to the excellent Super AMOLED Plus display screen. But all said and done, Samsung Galaxy S II does look like a promising phone.
Comment(s)