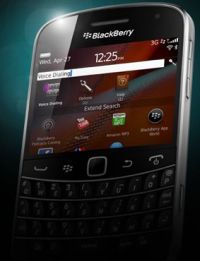 Research In Motion (RIM) has unveiled two new Blackberry Bold smartphones as well as the new Blackberry 7 OS in its annual BlackBerry World Conference, CNET reported.
The new BlackBerry 7 operating system will work on BlackBerry Bold 9900 and BlackBerry Bold 9930 and has features galore. RIM said that its revamped mobile OS is a "performance driven" platform and has a revamped BlackBerry browser that includes a just-in-time JavaScript compiler and HTML 5 video support. BlackBerry 7 OS will also support augmented reality applications, have voice-enabled search and have NFC (near field communications) short-range high-frequency wireless communication technology for contactless credit card payments. Other Handsets which have NFC currently are the Samsung's Google Nexus S and Galaxy S2.
To know more about Augmented Reality, read this post.
New Handsets
The two new handsets are essentially the same but the Bold 9900 supports High Speed Packet Access(HSPA)+ connectivity, while the Bold 9930 is an international device supporting CDMA and GSM networks.
The new Bolds and the BlackBerry 7 OS will be launched this summer, but unfortunately the current devices won't be upgradeable to the new OS due to hardware restrictions according to RIM. This is a major drawback since all the Blackberrys purchased recently will become outdated.
Here is a video of the Blackberry handsets, courtesy Crackberry.
Specs
The BlackBerry devices run on Qualcomm's 1.2GHz Snapdragon processor; have 768MB of RAM and 8GB of internal storage which can be extended up to 32GB with a MicroSD card. The mobiles have a 5 mega pixel camera with Flash which can also record High Definition videos at 720p, a feature absent in earlier models of BlackBerry.
They have a 2.8 inch capacitive touchscreen featuring RIM's Liquid Graphics technology and a pixel density of 287 dpi, track pads and full QWERTY keypads and are the thinnest BlackBerry smartphones till date at a mere 10.5mm width. They come with a brushed stainless-steel surround and a high-gloss glass-weave back plate. The inclusion of touch screens means you can use both the track pad and the screen for the functioning of the device.
---