Online Health Takes Off: Healthcaremagic.com Adds 1,900 Registered Users A Day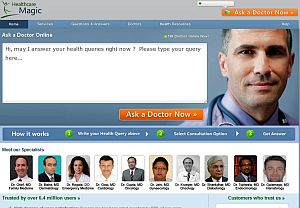 Blood pressure. Pregnancy calculator. Diabetes symptoms. Obesity. These are some of the health-related keywords being searched on Google that lead users to Healthcaremagic.com, an Indian website that connects online users with registered doctors and specialists. And it seems there are several hundreds of thousands of people searching for health-related information on internet that Healthcaremagic.com is now adding an average of 1,900 registered users per day and clocking 4.5 million unique visitors per month.
Today, the healthcare portal run by Bangalore-based Rx HealthcareMagic Pvt Ltd, has a registered user base of 6.7 million.
Among Healthcaremagic.com's visitors, an 85 per cent are from North America, 10 per cent from European nations and only 5-6 per cent are Indians. They come to the website for not just advice and health tips but also for information on reputed doctors in their localities. Currently, Healthcaremagic has information on medical practitioners in 19 countries across the globe and allows users to search on the basis of specialisation too.

Besides consumers, large corporate houses such as McAfee, Standard Chartered, HCL and EMC are also among Healthcaremagic's clients, offering their employees the benefit of receiving advice to health issues online whenever they require it.
How did this four year old healthcare portal scale to its current size and what makes it a hot start-up?
How It Started

The company was founded by Kunal Sinha, Shekhar Sahu and Nitesh Pant in 2007, who were colleagues at Unified Technologies, a New York headquartered provider of internet technology services. When they decided to launch a start-up, they were undecided regarding the domain. They were looking at either education or healthcare space. They finalised on healthcare and decided to focus on Bangalore for a start. The website was launched in January 2008.
The problem that Healthcaremagic attempted to solve was a common one in India. "Unless you are familiar with a city, you don't know which doctor to go to and have to be guided by friends or family. There is a huge gap between consumers and doctors today and we sought to bridge it," Shekhar Sahu, co-founder, Rx HealthCare Magic, told Techcircle.in.
"Our goal was to reach out to doctors, bring them online and answer the questions posed by online users. Not too many companies in India are doing what we do and we see ourselves as a frontrunner in the online healthcare space," says Kunal Sinha, founder and CEO, Rx HealthCare Magic.

In the initial days, Dr Sonal Verma, Kunal Sinha's wife, brought on board a few medical practitioners and these doctors started chatting with online users visiting the website and offered them health care advice. The website saw a quick rise in the number of users within a few weeks – to 500-700 visitors per day.
A year later, the three could raise $2.5 million from early stage fund Accel Partners. Since then, it has steadily added features, doctors, corporate clients and users onto its network.
What also helped the quick growth was the adoption of social media. In 2008, Sahu decided to attempt a unique Twitter experiment, offering two daily health tips via the social networking medium. "We noticed that people were very interested in health tips and decided to address the demand," says Sahu. Now its Twitter handle @Dailyhealthtips has a fan base of 250,000 followers for its daily health tips, although it has sent out only just over 1,000 tweets so far.

Offerings
Healthcaremagic started adding more doctors to its network and launched more features on its site such as 'Super Specialist Opinion', 'Ask' and 'Doctor On Call' services. 'Super Specialist Opinion' brings answers from 90 specialists such as cardiologists and oncologists while the 'Ask' service, launched in January, 2011, turns away from the instant interaction model of chat and allows users to e-mail their queries to doctors. "Some people are used to e-mailing and they would rather ask and receive a reply via the e-mail," explains Sahu. Doctors typically reply to e-mail messages in 30 minutes.
Healthcaremagic launched the 'Doctor On Call' service on the basis of a suggestion by telco RCOM. It was an additional means for users to connect to its services – beyond landline and the Internet. It is now targeting anyone with a mobile phone. 'Doctor On Call' is now offered to subscribers of RCOM, Aircel, Tata Indicom and Loop Mobile. The charge varies according to the carrier - some charge Rs 9 while others charge Rs 15. The company is now in talks with Idea Cellular, Airtel and Vodafone Essar to launch the service. It receives a share of revenues that the operators make from the voice calls by subscribers.

In 2009, Healthcaremagic also launched its B2B service for enterprises. It offered a combination of offline and online services, which included free access to its services offered on the website to all employees through an Employee Health Dashboard, as well as through regular campus visits by its doctors. "This is an end-to-end service that we provide and companies really like it," says Sahu. As of now, the company has 15 corporate clients and it is now targeting smaller companies with a per-employee, customised model.
Monetisation The company decided to charge for interactions with specialists in October 2008. The cost of interaction with a specialist is Rs. 599 via email and Rs. 799 via a phone call. The company has so far handled over 600,000 answers through its paid Q&A and health forums.
Sinha would not reveal Healthcaremagic's current revenues and profit figures, but informed that the company broke even on a quarterly basis six months ago.

Healthcaremagic has different revenue streams – from advertising on the site to premium services that charge for user-doctor interactions on the website and revenue shares from mobile value added services (VAS) such as 'Doctor On Call' and contracts with corporate clients for Employee Health Dashboard.
It currently has 14 corporate customers who pay the company to offer answers to basic problems like backache or eye problems for their employees. Sinha says the service is complimentary to health insurance being offered by most corporate houses today. In fact, he believes that the services of Healthcaremagic can become as popular as health insurance policies. "We want to be seen as pervasive and important as a health insurance policy. A certain percentage of the Indian population has access to health insurance, and we want them to have a Healthcaremagic policy as well," he says.
Contracts with corporate clients rake in an average of Rs 20-25 lakh a year, the company said.
Not A Smooth Ride One of the hurdles faced by Healthcaremagic was to ensure that their customer care operated 24x7, for 365 days a year. And this required precise management of the CRM (customer relationship management) teams. "The tricky part was setting up processes to allow the teams to be seamlessly connected and provide a steady service to consumers," says Sinha. In the first year, the company found it difficult to manage the handover between night shift employees and the rest. However, it now manages five CRM teams successfully.
Another time zone-related challenge was related to the availability of doctors at all times of the day. This was solved once Healthcaremagic got US-based doctors on board.
Sinha warns that similar start-ups should be prepared to face various operational and cost-related challenges in the first year. "They will need deep pockets to keep investing for the first year," he says, adding that they will have to factor in expensive resources such as doctors on the panel, a technology team and a lot of non-software staff.
Market & Competition Sinha is reluctant to put a decisive number on the scope or market size, saying, "The Indian healthcare market is fragmented with hospitals, private practitioners, health insurance firms and pharmaceutical companies multiplying. It is estimated that the e-health market is currently more than $1 billion. But with 40 million Internet users on board and the number growing every day, India has a large potential for e-health companies. In other words, everybody falls sick once a year and anyone who has Internet access and a credit card, is our target consumer."
Recently, Religare Technologies launched its health information portal and voice service HealthLine24x7.com. The website has information on diseases, symptoms, possible treatments, alternative treatments, medicines and their probable side effects. Using the search feature, users can identify local specialists in Delhi/NCR, Mumbai, Kolkata and Bengaluru.
Another Indian website is Doctor.NDTV.com, launched by the media house NDTV. It seeks to deliver health news, advice on how to keep fit, features on seasonal illnesses and a list of utilities across India where one may find good medical care. Its editor-in-chief is Dr Samiran Nundy, a consultant gastrointestinal surgeon at Sir Ganga Ram Hospital in Delhi.
There is a plethora of global websites that offer health-related services such as WebMD.com, RevolutionHealth.com, Askmedicaldoctor.com, Ask4healthcare.com, Medicalfaq.net, Healthexpertadvice.org and Doctorslounge.com. But Sinha believes that Healthcaremagic stands alone. "We don't compete with any local company. There are a few start-ups who may do something similar." Globally, Healthcaremagic faces competition from USA-based Justanswer.com and Bestdoctors.com, Sinha adds.
On the scope for other start-ups in this sector, Sinha said, "There is a lot of opportunity and we find a good number of companies targeting fitness and diet, as well as electronic health records (EHR). And then, there is some action on health tourism, but I am not sure where it is going. We also find start-ups entering the healthcare space."
A start-up that offers nutrition, exercise physiology and counselling services is the Bangalore-based 2MPower (http://2mpower.in/healthforever), founded by Mohammed Hussain Naseem who was the vice-president of IBM's healthcare business. Naseem has previously worked at GE Medical Systems and Infosys Technologies.
Mumbai-based VNurture Healthcare Software Solutions Pvt Ltd runs Healthyzen.com that offers electronic health records. A Sri Lankan company called Medical Joyworks, is another start-up seen at Seedcamp in Mumbai late last year. Medical Joyworks was founded by Dr Nayana Somaratna, along with an engineer and an accountant, and offers an iPhone app called Prognosis, a game targeting healthcare professionals and patients. It is now working on Eat2Beat, an app that offers correct food choices to patients with diabetes, high blood pressure and high cholesterol levels.
What Next Healthcaremagic now plans to get more doctors onto the platform and step up the focus on corporate clients. Currently, the company has 35 full-time doctors on its payroll who work in shifts. And this number has barely changed over the past two years. In 2009, the company had employed 34 doctors. "In fact, we have opened up our platform and added many more doctors who can register with us and the work has become more distributed," explains Sahu.
Healthcaremagic now has 2,300 active medical advisors on its network and these part-time doctors, dieticians and nutrition specialists are paid on per-answer basis. The medical team is headed by Dr JKC Majumdar.
The company already has a sales team in New Delhi and is now planning to set up offices in Mumbai and Hyderabad. It is also looking at expanding its call centre operations. Currently, the company employs 76 people of which 15 are in CRM and there are five people in the technology team, while it's also looking to hire senior executives for top management and development roles.
---