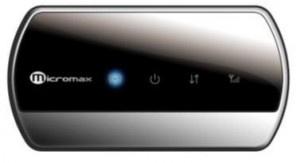 Micromax recently launched its new pocket 3G wireless router going by the name of MMX400R. The wireless device costs Rs. 4999 in the market and can connect up to 5 Wi-Fi users and 1 USB user at a time. Small in size (95.5mm x 51mm x 14.8mm) and light in weight (60gms) this is a really nifty device that you can easily tuck away in any alcove in your house.
The router can download at speeds up to 7.2Mbps and has a battery life of 4 hours with a standby time of 20 hours. It works on both Mac and Windows, has a SIM card and MicroSD card slot and a micro USB slot. The device has security access for safer browsing and is operating system independent.
Features of Micromax MMX400R
HSUPA
3GPP Release6, up to 5.76M bps UL,category 6
HSDPA
3GPP Release6, up to 7.2M bps DL,category 7/8
Wi-Fi Frequency Band
2.4 GHz
3G/2G Frequency Band
GSM/GPRS/EDGE- 850/900/1800/1900 MHz
UMTS/HSPA- 2100MHz
Last year Tata had come up with Tata Photon Wi-Fi Pocket Router, which was sans the 3G. And right now there are many such devices available in the market. For instance, there is the
Vodafone's R201
3G wireless router, which is priced at Rs 5,500. There is also the Olive Nexus, priced at Rs. 3499.
---