Kodak Launches Credit Card Sized Camera In India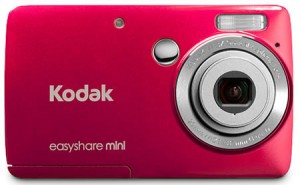 Kodak India has launched its  smallest camera yet, the Kodak EasyShare Mini Digital Camera.
The EasyShare Mini may be credit card sized, but packs a powerful 10 MegaPixel camera with a 2.5-inch bright LCD. Its features include Smart Capture and Face Recognition, multiple scene and color modes. It has a 3X wide-angle optical zoom lens and a built-in self portrait mirror.
With the Share button, the Kodak Mini allows you to tag pictures or videos directly on the camera for automatic upload on to sites such as Facebook, Flickr, Orkut, Youtube simultaneously.
Other features include Auto focus, face detection and recognition, red eye reduction and flash. It also reduces blur caused by camera shake, and automatically adjusts the camera settings.
"Kodak has a digital camera to fit every lifestyle," said S. Srinivasu, Country Business Manager– Consumer Digital Group, Kodak India. "And with the Share Button you can tag your pictures or videos directly on the camera for automatic upload to your favorite social networking sites and email when you connect to your computer.  The new Kodak Mini is perfectly suitable for the Gen X, for whom the mantra is Staying Connected by Sharing"
The Easy Share Mini offers a 4GB memory card along with a 2 year warranty period. The camera is available at all major retailers for an affordable price of Rs 5,299 and comes in two colours - red and black.
Comment(s)