EBay India announced that Ambareesh Murty, who led eBay India as Country Manager since March 2008, has resigned to become an Internet entrepreneur.
In a message to eBay members today, Murty has said, "After many long and happy years at eBay, I've decided to step down from my role of Country Manager, eBay India to pursue my entrepreneurial interests."
The company has appointed Muralikrishnan B. as Country Manager, eBay India with immediate effect. He was previously the Sr. Director – Marketing & Product Management.
In a media release, Ambareesh Murty, former Country Manager, eBay India said, "I wish Murali all the best in his new role. I've had a great time over the last three years, working with a fantastic team to transform the way Indians shopped, and am confident that Murali and the eBay India management team will do a great job of charting the future of Indian eCommerce."
Murty was also the Vice Chairman of the IAMAI (Internet & Mobile Association of India) where he worked towards building an enabling ecosystem for Internet businesses in India.
Prior to eBay, Murty was employed at Cadbury Schweppes PLC and Prudential ICICI. He also set up a financial training and advisory firm in Bangalore.
Murty holds a B.E. in Civil Engineering from the Delhi College of Engineering and a MBA from the Indian Institute of Management, Calcutta.
Muralikrishan B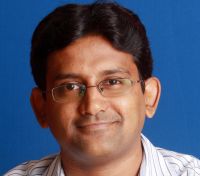 In his new role, Murali will be responsible for the eBay portfolio in India, Philippines & Malaysia. Murali joined eBay in 2005 and has been part of the IAMAI (Internet & Mobile Association of India) eCommerce & FICCI (Federation of Indian Chambers of Commerce & Industry) Retail Committees.
He said, "Indian eCommerce is rapidly evolving and eBay is uniquely positioned to continue to lead this growth. I am delighted to take on my new role and look forward to further strengthening our leadership position".
---