ICICI, Lankan Bank Launch Online Money Transfer Facility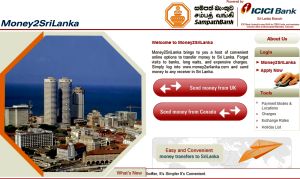 ICICI Bank has tied up with Sri Lanka's Sampath Bank Plc. to launch Money2SriLanka (M2SL), an online cross-border money transfer facility.
M2SL is a web-based online remittance platform which ensures that remittances sent from abroad will be available to beneficiaries, namely account holders of ICICI Bank in Sri Lanka and Sampath Bank, on the day funds are received in Sri Lanka. Remittances received from account holders of other banks in Sri Lanka will be disbursed through Sri Lanka Interbank Payment system with the same-day value, subject to cut-off timings for payment processing.
The new system also features an online tracking system to trace the status of a transaction from the point of initiation up to the point of payment to the beneficiary.
ICICI Bank's proprietary online portal, Money2India.com, offers remittance services across the country, to account holders of more than 100 banks.
Comment(s)