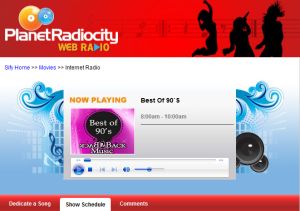 Sify Technologies Ltd has partnered with Radio City 91.1 FM to launch Radio on Sify, a new feature on its flagship portal. Radio City 91.1 FM is run by Music Broadcast Pvt Ltd.
This tie-up will enable visitors to Sify.com to listen to Bollywood, Indi-Pop and other genres of music 24 hours every day online. Sify.com offers news, entertainment, finance, sports, games and shopping.
Natesh Mani, President, Consumer Infrastructure Services, Sify Technologies, said, "We believe, Radio on Sify is a complete 'fun and masti' offering for young professionals and next generation listeners. We are delighted to partner Radio City and integrate an Indian Internet Radio channel with Sify.com. The launch of radio will help us offer uninterrupted music to music lovers."
Music Broadcast launched Internet radio on its website Planet Radio City in March 2010. This has been integrated into Sify's portal to draw more users. The portal draws 17 million unique visitors per month and recently announced it was profitable.
Rachna Kanwar, Head of Digital Media & New Business, Radio City 91.1 FM, said, "This is a strategic move for Radio City. With over 17 million unique visitors per month Sify.com is one of the leading horizontal worldwide, and now through this partnership, we hope to increase our listener base among Indian netizens globally."
The content broadcast on Radio on Sify will be different from the regular programming of Radio City 91.1 FM and will offer uninterrupted streaming of songs. Users can listen to songs without buffering at Internet speeds above 128 Kbps. Radio on Sify will also appear as a tab on the homepage across Sify's chain of Mylife cybercafés in India as well as for all Sify Broadband users.
Listeners can dedicate songs just like on normal radio, they can also post their comments/dedications via any mail id or their Facebook account (it will also be posted to their Facebook walls) and then there is Show Time which will feature a list of all the shows.
---