LG and Samsung Launch Smart TVs in India- Which One is Smarter?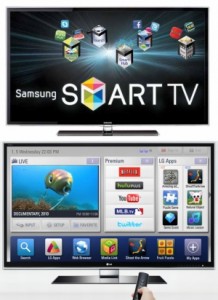 Samsung and LG recently launched a new range of Smart TVs in India. The range includes the usual Smart TVs and a new line of Smart 3D TVs. Here's a look at the new line of television sets and what makes them tick.
What is Smart TV
Smart TV, which is also called "Connected TV" at times, is the name used to describe the combination of the internet and Web features into the new television sets and set-top boxes, and the union of technology between computers and these television sets/set-top boxes.
How is Smart TV better than regular TV
Smart TV's are interactive in nature; they offer better connectivity and computing ability than the regular television set. These devices allow viewers to search and find videos, movies, photos and other content on the web, TV channels or on a hard drive. You can also install and run applications or plug-ins based on a specific platform.
LG Smart TV
The Smart TV's by LG are LED TVs with full HD 1080p and a Dynamic Contrast Ratio of 3,000,000:1. They have a number of interesting features -   the first being the Magic motion remote control, which doubles as a mouse. With simple gesture controls you can drag, flick and select with a click what you want without having to use multiple buttons and keys.
The Smart Share allows you to wirelessly access the content in your digital devices, including digital cameras, mobile phones and PCs. Then there are a range of applications and games made for individual and family entertainment. You can access and download apps directly from the screen and can also customize the Home Dashboard with the apps of your choice for easy access.
A home dashboard is added in the screen which gives you quick and easy navigation through the entertainment options. You can explore what's playing on different channels, have a look at applications available and select one of your favourite menus. The dashboard is the default main menu for LG Smart TVs. The television sets also have 3 HDMI ports, a headphone port and two USB 2.0 ports for better connectivity.
"LG Smart TVs have been designed to provide endless options of entertainment. Eventually content is going to be the key differentiating factor for the consumer; therefore we have taken the lead in providing an excellent mix of global as well as India specific content for our Smart TV buyers," Soon Kwon, Managing Director, LG Electronics said in a media statement.
In addition to the above features, the 3D Smart TV from LG offers improved 2D to 3D conversion function with more realistic 3D images with the help of which you can enjoy any 2D content in full depth of 3D images. The 3D viewing angle is also much wider than conventional 3D TVs which allows the viewer to lie down or lean back without any image blackout.
The LG's CINEMA 3D technology has eliminated flickering shutters from the 3D glasses allowing the user to enjoy watching 3D TV for extended durations without causing any discomfort. They have also been made lighter and are battery-free so no regular charging is required unlike the other 3D glasses.
The high end television sets have Motion Clarity Index 600 which is a wide-ranging indicator of the genuine clarity of high speed motion display, incorporating more than just frame rates. LG's detailed backlight scanning, advance local dimming technology, and XD engine contribute in improving the clarity and realism of fast-moving pictures.
The TV's TruMotion 100Hz processes 100 frames per second, removing the image blur on even the fastest action sequences. A great feature for high definition 2D images, TruMotion 100Hz also helps produce sharp 3D pictures.
The television sets are available in the market and their pricing range from Rs 40,000 to Rs 1,70,000.
Samsung Smart TV
The new line of full HD Smart TVs with ultra clear panel and digital noise filter from Samsung offers features like the Smart Hub which lets you surf the web and download various applications and search for TV content while watching live TV. You can also surf the net on your TV, there is a dedicated web browser in the Smart TV which lets you search for content, shop for apps and stay connected via social networking sites.
Samsung's Social TV feature allows you to blog and chat through sites and services like Facebook, Twitter, and Google Talk while watching live TV although the availability of Social TV depends on the region. Then there is Skype for free video calls with other Skype users, a video on demand service and All Share for wirelessly connecting with mobile devices through DLNA (Digital Living Network Alliance) technology for sharing movies, photos and music stored on them.
There is also 2D to 3D conversion available in the 3D Smart TVs with 3D sound with the help of Samsung's Depth Rendering Technology. The 3D glasses are also better designed and lighter. Then there is Samsung's clear motion rate. Unlike the refresh rate which explains a part of picture quality, Clear Motion Rate determines the motion of an image by using three factors: chipset, TV panel, and backlight. There are 4 HDMI ports and 3 USB ports available in the television sets.
Samsung's smart TV range is available in the market at a starting price around Rs.58,000 which goes up to Rs.2,50,000.
Our Verdict
With the increase in demand for user-friendly devices with connectivity, the Smart TV's are here to stay.
Comment(s)