Photo Services Start-up ZoomIn To Sell Digicams; Offline Expansion On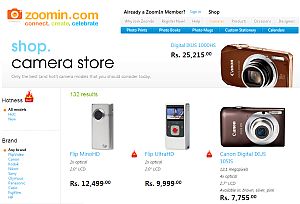 Mumbai-based Zoomin Online (India) Pvt. Ltd, a photo services start-up, is betting on digital camera sales this quarter after witnessing a doubling in user activity on its flagship portal Zoomin.com.
Zoomin.com is a website that offers customised photo products such as mugs, calendars and wedding albums. According to the company, last year 1 million photos were being uploaded per month onto the site and this number is now 2 million. The top products sold on ZoomIn are photobooks, calendars and personalised gift items such as mugs and bag tags (luggage tags).
"Photo products are evergreen and their popularity continues to soar. We have been growing at a fairly healthy clip and have seen 100 per cent growth in users, actively ordering prints and products from Zoomin," said Ajay Menon, VP of corporate and business development, Zoomin.com.
Zoomin's camera shop has over 130 digital camera models online for sale, starting from low-end Kodak C143 worth Rs 4,499 to the Canon 60D that costs Rs 1 lakh. This quarter, ZoomIn is looking to add more cameras to its outlet to woo users. The online storefront for cameras was set up in October, 2010, in an attempt to draw users, especially digital photographers and prosumers. The company was initially focused on quick turnaround of its photo services and it is gearing up its e-commerce initiatives now.
ZoomIn sources the cameras locally and is also an authorised dealer of Canon. It buys cameras directly from manufacturers and ships them to users, sweetening the buy with exclusive deals. The company also offers buying tips from brands.
Raised $10M So Far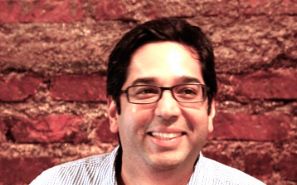 Founded in September 2007, ZoomIn has raised a total of $10 million in two rounds of funding so far. Its investors include Sherpalo Ventures and First Round Capital, which is also an investor in StumbleUpon. Menon clarifies that previous media reports stating KPCB is an investor are incorrect. The company did not share the revenues and profitability status, nor its spend.
ZoomIn was incepted to cater to rising demand for photo products. "The service came about as we saw the need from the domestic market. We noted that the photo services sector is fairly disorganised and nobody was offering world-class products ordered from the comfort of one's home," said Menon. "Photos tell a story and it is very much in our Indian culture to share and appreciate photos of family moments. Especially when joint families no longer exist, what better way is there to communicate than through photos?"
He terms ZoomIn as a conduit that allows users to share photos with their families and ship gifts to friends, as well as print out personalised calendars. ZoomIn services are offered online as well as offline, with online services being cheaper than offline. The website currently ships to India, the USA, the UK and Canada. Menon did not share the number of unique visitors to the site.
ZoomIn will continue to expand its retail offline and online business, besides adding more products online, especially in the photobooks space, says Menon.
Offline Expansion: 50 Stores By Year-End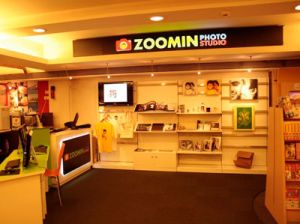 At ZoomIn studios, users can either submit photos or download their digital images from Flikr, Facebook and other sites where they have stored their images. These photos are used to personalise merchandise and users can either pick the products directly from the stores or ask ZoomIn to ship them directly for a nominal charge.
Today, ZoomIn has 17 offline retail studios across the country, of which two are franchise-run stores and the rest are in partnership with retails such as Shopper's Stop's bookstore chain Crossword and Tata's consumer electronics store Croma.
ZoomIn studios are located in Delhi-NCR, Mumbai, Pune, Ahmedabad, Bengaluru, Kolkata and Chennai. At these studios, visitors can purchase the same range of print products which are available online. The studios typically record 50-200 footfalls on weekdays.
The company will opt for the franchise model to set up more stores and expects to have 45-50 stores by the end of this year. Two franchise stores are located in Mumbai and Bangalore, and another is coming up in Mumbai. Next, ZoomIn will expand to New Delhi and Hyderabad.
"We chose Croma and Crossword for their demographic fit. People tend to visit the stores in their leisure time and are interested in using our services while at the stores," explained Menon.
Elaborating on why the company took the service offline, Menon said, "Our core target is wives and mothers who organise photos and create memorabilia. However, many are not comfortable using the Internet and even if they are, they do not prefer to use the credit card online. Access to the Internet from homes is another barrier. Finally, the touch-feel factor is very powerful in India. That is the reason we have decided to opt for offline retail."
The co-founder of another photo services company Printo Document Services Pvt Ltd Manish Sharma agrees, adding, "For a Rs. 3,000 photo album or a canvas print, tangibility is a big issue. Moreover, it is an involved buying process and at times more than one person is invovled. Offline stores provide customers with expertise and ambience to build a product at their leisure." Printo runs 18 stores in two cities.
The company is also exploring ways to work with neighbourhood photo studios to leverage ZoomIn services. Some of these studios have shown interest and are conducive to becoming ZoomIn resellers, said Menon.
Leveraging Social Networks For Deals
ZoomIn delivers deals and coupons to its users via social networks such as Facebook and Twitter. The company has 1,88,059 fans on its Facebook page and shares one coupon a month with them, giving them discounts on products on the site.
It also features an app on Facebook that allows users to send stamped postcards to their friends and family via ZoomIn. "With the postcards app, users can send personalised postcards to anyone in India using their Facebook photos," said Menon.
The company is wooing users by offering the first five postcards for free, after which it is charged. However, it has kept the base price low – Rs 6 per card.
On Twitter, ZoomIn tweets offers for festivals and occasions like the recently observed Mother's Day.
Partners
ZoomIn has recently partnered with Bharti Airtel's broadband division to launch Airtel Photo Service. Now, users of Airtel broadband connections can store an unlimited number of photos online, as well as buy personalised products and gifts with photos printed on them. Single billing will be the USP of their joint offering. "The advantage for users is that whatever you buy is billed to the post-paid statement for Airtel broadband. So, you don't have to whip out the credit card to pay for products," Menon said.
Now, ZoomIn is mulling co-marketing partnerships with other telcos.
Competitive Landscape
Zoomin.com competes with global online photo services like HP's Snapfish.in and Shutterfly Inc., which also allow users to store, share and print their digital photos onto mugs, photo albums, calendars, T-shirts etc.
In India, companies such as Myntra.com, Printo, GKVale, ITasveer, SnapGalaxy, PrintCamp and PrintBucket are in the same space. Printo claims it served 400,000 paying customers last year and retail contributes to 75 per cent of the company's revenues. Another start-up Canvera is also in the photo-printing space and offers products such as wedding albums and photo books as well as online solutions for professional photographers to design and sell their products using its e-commerce storefront.
Sharma notes that there is no example of a profitable online photo service globally. "The USA saw significant consolidation in that market but in India we lack the objectivity to see the writing on the wall. We all believe we have a better mouse trap. In India, a slew of photo sites sold out and smarter personal merchandise players switched track to focus on e-commerce rather than photo products," he said.
Update: Sharma has withdrawn his comment on Shutterfly.
Comment(s)