Consim Info's Date With Ecom: Launches Gifting Portal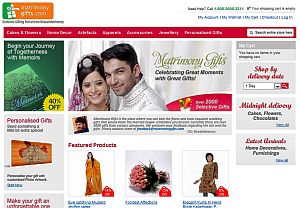 Consim Info Pvt Ltd, which runs Bharatmatrimony.com, has launched a new e-commerce portal that offers wedding related gifts - Matrimonygifts.com
Consim Info Pvt Ltd runs over 350 portals including its flagship BharatMatrimony.com, various sites under the consortium Community Matrimony, PriviledgeMatrimony.com, EliteMatrimony.com and Matrimonymatters.com as well as real estate classifieds site Indiaproperty.com. In 2009, the company set up a subsidiary Perspi Interactive Pvt Ltd to run four non-core classifieds portals - ClickJobs.com, IndiaList.com, IndiaAutomobile.com and Loanwala.com.
According to the site, Matrimonygifts.com was set up to take care of an important issue that members of Bharatmatrimony.com face while dealing with marriages - social gifting. It showcases 2000 products under seven categories - cakes and flowers; home decor; artefacts; apparel; accessories; jewellery and personalised gifts. The company has partnered with Surat Diamonds, CaratLane.com, Jagdamba Pearls, Chamiers Gifts, American Dry Fruits, FernsandPetals, Right Florist, Punjabi Ghasitaram, and Aashi Gifts, according to afaqs.
Matrimonygifts.com solves the hassle of searching for a gift at the last moment but does not offer recommendations on gifts or tips on what constitutes an appropriate gift.
Other e-commerce portals offering similar categories and products include eBay.in, Flipkart.com, Infibeam.com and Homeshop18.com. Consim Info competitor People Interactive Pvt Ltd runs Shaadi.com and Shaaditimes.com. Another company offering wedding favours and gifts is startup Bigindianwedding.com, a wedding planning site which is in the process of expanding to 20 cities.
Comment(s)