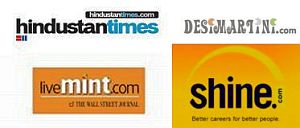 The Internet business of media house HT Media has incurred higher losses (before tax and interest) of Rs 39.67 crore in the fiscal year ended March 31, 2011 compared to Rs 37.79 crore in fiscal 2010.
Revenues from Internet business have risen 85.3 per cent to Rs 10.4 crore in the fiscal from Rs 5.61 crore recorded in the previous year.
HT Media runs Shine.com, a placement portal, through its subsidiary Firefly e-Ventures Ltd. In 2010, the website had 40 lakh registered candidates - this is now at 6.5 million. Besides this website, the company drives revenues by displaying ads on its two websites - Hindustantimes.com and Livemint.com. HT Media also runs the social networking website Desimartini.com.
In the quarter, HT Media invested Rs 1 crore into its subsidiary HT Digital Media Holdings Ltd and another Rs 1 crore in HT Education Ltd through compulsorily convertible debentures.
For the quarter ended March 31, 2011, Internet revenues were at Rs 3.65 crore, compared to Rs 2.85 crore in the corresponding quarter last year. Net losses rose to Rs 10.78 crore from Rs 8.43 crore year on year.
HT Media
According to the audited consolidated results issued by the company, HT Media reported revenues of Rs 1,786 crore in fiscal 2011 ended March 31, 2011, compared to Rs 1,439.2 crore registered in the previous fiscal year.
Net profits at HT Media have risen 10.35 per cent to Rs 150 crore from Rs 135.93 crore year on year.
On a standalone basis, HT Media has reported lower total operating revenues of Rs 1,231.78 crore for the fiscal 2011 compared to Rs 1,284.3 crore in the previous fiscal. Net profits are up at Rs 177.59 crore from Rs 124.77 crore.
---