Zipdial Launches Game Based On Missed Calls For Kingfisher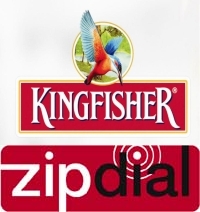 Mobile solution startup ZipDial Mobile Solutions Pvt Ltd has launched an innovative game based on missed calls for its client Kingfisher.
Called Book Cricket, it is based on the traditional game which is played by flipping pages of a book. ZipDial incorporated the same logic to play the game on mobile phones except in this case the flipping of pages is replaced by ZipDialling. For playing the game, users have to dial the toll free number 080-30050077.
ZipDial Mobile Solutions Pvt Ltd is a Bangalore-based company established in 2010 and offers a mobile platform for marketing and customer relationships management and also offers a SMS-free verification service. Valerie Rozycki, CEO of ZipDial, said "We are excited to see the results and more happy about the fact that we could add value to Kingfisher's campaigns. The fact that ZipDial works for any consumer today on a handset and any operator while being toll-free makes it ubiquitous. 100% of Indian mobile audience can participate in interactive brand campaigns through ZipDialing." The company recently raised Rs 3.5 crore from angel investors.

The company claims that 60% of the gamers played Book Cricket multiple times in the same day and that it was played more than 84,931 times in just 15 days.
"This cricket season, Kingfisher brings the Good Times to all of India, whether or not they are connected online, and ZipDial is the ideal way to allow all of our customers to celebrate cricket in a way that is toll-free and as simple as dialing. We have been very happy with the participation from customers and the rate of growth of Kingfisher ZipDial Book Cricket." said Samar Sheikhawat, Senior Vice President of Marketing for United Breweries Ltd, in a media release.
---