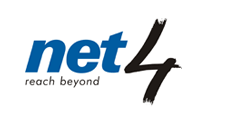 Noida based Net 4 India, a provider of hosted email, web hosting and domain names recently posted its results for the year ended March 31, 2011 with an 84 per cent rise in net profit at Rs.21.13 crore from 11.50 crore last year.
The company had a combined sale of Rs.304 crore for the FY11, which is an increase of 56 per cent from 195 crore for the FY09. Additionally the Earnings Per Share (EPS) grew from Rs.6.66 to Rs.10.84 per share, a 63 per cent growth.
The results for the fourth quarter were positive as on a Year On Year (YOY) basis, the consolidated revenue grew by 53 per cent from 60 crore to 92 crore, while the net profit grew by 79 per cent from 3.3 crore to 5.9 crore.
"We are extremely pleased with our performance this year. This has been achieved as a result of growth across all our service offering. The market for our service offerings continues to grow at a good pace and we feel that it would continue for a while to come, as Indian businesses are still highly under penetrated. We continue to expand the depth of our service ranges, add new service variants, optimize our productivity and improve our customer experience." said Jasjit Sawhney, CMD Net 4 India Ltd
Net 4 India is a Web domain and hosting service provider which delivers services to all types of businesses and its offerings include Enterprise Internet Services, Data Centre Solutions, VoIP Solutions, Enterprise Messaging, Hosting and Hosted Applications services. The company has a PAN India presence with offices in 11 cities in the country. They have seven Internet data centres (IDCs) and 15 Network points of presence and have a customer base of over 3,00,000 customers. The company's client base includes CNBC TV18, Essar, Godrej, Hutch, ITC, L&T, Lufthansa, NIIT, ONGC, Proctor & Gamble, Reliance, Sahara, SBI, Siemens and TCS.
"Our new Data Centre facility in Chennai is going ahead full steam and will be ready for occupation by the last quarter of this financial year. We are seeing robust demand in the Data Centre and Cloud server space. We have added 300 customers in less than 6 months for our cloud server services and the momentum is getting stronger every month" said Sawhney
Earlier in February this year, Net4 India sold 4.6 per cent of its stake to Acacia Partners and its associate funds for Rs.11 crore ($2.3 million). To know more, read here.
---