11 Indic Languages Added To Internet Explorer 9
Microsoft Corporation India Pvt. Ltd. has announced the availability of Internet Explorer 9 (IE9) in 53 additional languages (it was already available in Hindi), including 11 Indian regional languages. The regional languages include Assamese, Bengali, Gujarati, Kannada, Konkani, Malayalam, Marathi, Oriya, Punjabi, Tamil and Telugu. By making the IE9 available in regional languages, Microsoft is trying bring IT to everyone by further promoting local language computing in India.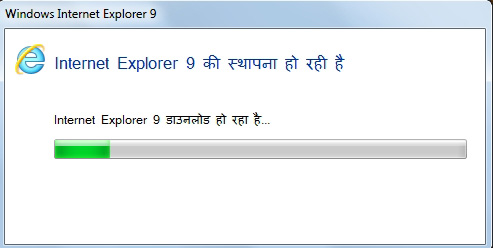 Earlier this year Microsoft Inc. had partnered with 29 popular Indian websites to promote Internet Explorer 9. And within 24 hours of its launch, it already had 2.35 million downloads.
Microsoft has, over the years, launched products for growing the Indian language content ecosystem such as the Indic Language Input tool, a phonetic based keyboard, Language Interface Pack (LIP) support for flagship products; availability of Windows Live applications including e-mail, Instant Messenger, personal home page in Indian languages and the Captions Language Interface Pack (or CLIP), a tool that uses a tooltip caption to display local language translations, specifically in Hindi, Malayalam, Oriya, Tamil, for user interface items in Visual Studio 2008 and 2010.
Users can download Internet Explorer 9 in a language of their choice here.
Comment(s)