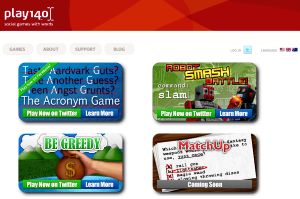 Bangalore-based Ojas Venture Partners, along with SOS Ventures of China, invested in the US-based Play140, a social gaming start-up. However, Ojas has not disclosed the deal size.
Play140 was founded in 2010 by three entrepreneurs – Shawn Broderick, Andrea Shubert and Tom Monaghan, with 50 years of combined experience in software and gaming markets. This is Broderick's second online games company. He had earlier founded Genetic Anomalies.
What's unique about Play140 games is that users here can play interactive games via text messages across myriad, disparate mediums such as SMS, Twitter, Web, IM, set-top boxes, smartphones, Tablets and beyond.
"It's tough to differentiate in the current genre of complex Flash-based games. Zynga has spawned several companies who have raised hundreds of millions of dollars to build more and more complicated games. This is an uninteresting battle tactic in a war which has already been won. Games with bigger budgets and bigger production values will not be able to differentiate themselves. In fact, if you are not an established winner in that market, you are playing the worst type of 'hits business' game. But Play140 is developing simple-to-play games that only require 140 characters or less across a wide medium of channels – Facebook, Twitter, SMS and IM. That is why Ojas has investment in this company," said Rajesh Srivathsa, managing partner at Ojas Venture Partners.
Ojas provides seed and early stage capital to companies operating in India. The size of the fund is $35 million. It typically invests $0.25 million-$1.5 million in its portfolio companies and also funds subsequent rounds, up to a maximum of $3 million.
Recently, Ojas, along with Inventus Capital Partners, had invested $0.67 million in Bangalore-based Vizury Interactive Pvt Ltd in its first round of funding. Ojas invested $0.35 million in the target company. Vizury Interactive is a digital marketing firm which provides services in the areas of consumer electronics, automobile, hospitality, IT & ITES, consultancy and education.
---