Notion Ink's Adam Up For Grabs Again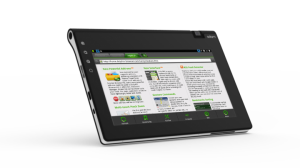 Bangalore based tablet maker Notion Ink has announced that Adam is on sale once again. Notion Ink is offering the Honeycomb update for the new tablets and the expected date for the update is June 27, 2011.
The sale of Adam is not without a catch- customers wanting to buy the tablet have to request Notion Ink for an invite for the next rounds of orders.
Adam was first showcased at CES trade expo in January last year and then at the same expo this year. The tablet was first available for pre-order last year and finally started shipping towards the end of January this year. Adam has met with mixed reviews - on one hand, there is a huge fan following of the tablet because of its innovations (its custom user interface (UI) 'Eden') and its specs. On the other hand, it has had equal amounts of criticism relating to build quality and shipping.
In February, Techcircle.in conducted an exclusive interview with Notion Ink's founder Rohan Shravan.
The Adam tablet has a 10.1" WSVGA (1024 x 600) multi touch LCD display with matte screen guard, anti-glare coating and is scratch and fingerprint resistant. There is an option of getting a Pixel Qi LCD display with Matte Coating that has transmissive, transflective and reflective modes. It is powered by NVIDIA Dual-core cortex A-9 Tegra 250 processor and has 1GB of RAM. The in-built storage capacity of the tablet is 8GB, but it supports a MicroSD card for further expansion. It has a 3.2 mega pixel 180 degrees swivel auto focus camera with a full high definition (1080p) HDMI port.
Currently there is a choice between Wi-Fi and Wi-Fi+3G models. They are priced at Rs.19,000 and Rs.22,000 for the Wi-Fi and the Wi-Fi+3G Backlit LCD models. Similarly the Pixel Qi models cost Rs.24,000 and Rs.27,000 for the Wi-Fi and Wi-Fi+3G models respectively.
Comment(s)