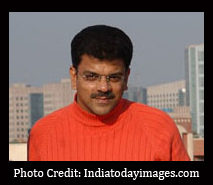 Rohit Ohri has resigned from the post of Senior Vice President and Managing Partner, JWT and is joining Dentsu, a Japanese advertising major as the Executive Chairman, Dentsu India group. The announcement came in the wake of rumours doing the rounds about Ohri moving out of JWT . He will now head the Dentsu India group which includes Clickstreamers (a digital agency), Dentsu Communications, Dentsu Marcom, Dentsu Creative Impact and Dentsu MediaTech, according to exchange4media.
In a 24-year career in advertising communications, Rohit Ohri has spent 21 years working at JWT, India. After working as head of the JWT-PepsiCo relationship in central Asia for 7 years, Ohri was elected the Managing Partner for JWT Delhi in 2005. Since then he has led the success of JWT's Delhi office and has made it the largest and most profitable branch in Asia Pacific. The Delhi office is responsible for over half of JWT's total revenues in India and is one of the top ten JWT offices globally.
Talking about his decision to quit JWT, Ohri said, "JWT will always be special for me, but it was time for a new challenge."
Dentsu has been showing a growing interest in the Indian market and according to Ohri the leadership is looking to re-launch brand Dentsu in India.
"The Dentsu DNA is very entrepreneurial. It does not operate like a network but like an agency. What impressed me most about Dentsu is their fantastic track record of creating integrated communication solutions for brands. If you look at some of the work they have done, you can see they have been path-breaking in their thinking. For instance, The Dentsu Group is partnering Apple for iAd mobile advertising network in Japan."
Earlier, Dentsu Inc. took over its India joint ventures Dentsu Communications Pvt Ltd, Dentsu Marcom Pvt Ltd and Dentsu Creative Impact Pvt Ltd by buying the 26 per cent stake held by partner Sandeep Goyal through an entity called Mogae Consultants Pvt Ltd.
---