3G Comes To The North East With Airtel
India's largest telecom firm Bharti Airtel, has launched its 3G services in six states in the North East circle. They have also launched the services in Srinagar, state capital of Jammu and Kashmir in the northern part of the country. Airtel already has more than 3 million customers in India subscribed to the 3G services and by bringing it to the North East circle, the company plans to make 3G available to more than 2 million customers of Airtel in the region.
The services offered will include faster mobile internet access and mobile TV, video calls, social networking on-the-go, video streaming and high definition gaming.
"As we extend the promise of Airtel 3G services to North-East India, we invite our mobile customers in the region to leverage the power of high speed internet and a host of innovative application capabilities their mobile devices – anywhere, anytime. We believe that Airtel 3G will lead the data and internet revolution in North East India, bringing our 20 lakh plus customers in this circle closer to an all new world of possibilities", said Raghunath Mandava, Operations Director- East, Mobile Services, Bharti Airtel according to EFYTimes.
Here is a look at the various 3G plans available in the North East: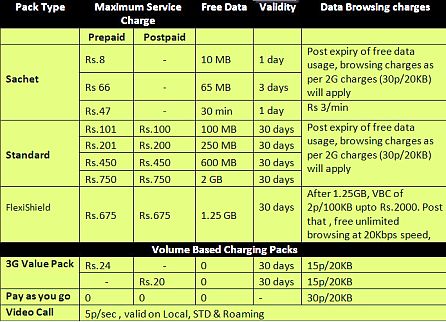 When we last checked the Airtel website, there was only one city mentioned in the North East which was Shillong. Airtel's 3G services are already available in states like Andhra Pradesh, Bihar, Himachal Pradesh, Karnataka, Tamil Nadu, Rajasthan, West Bengal, UP West besides the city circles of Delhi, Mumbai and Chennai.
Earlier this month Bharti Airtel had announced the launch of Airtel movies, a digital video service that is online and on-demand, in alliance with BigFlix, the home entertainment division of Reliance Anil Dhirubhai Ambani (ADA) Group. The company were also the first ones along with Aircel to bring the Apple iPhone to India.
Comment(s)