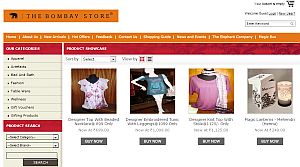 Retailer Bombay Swadeshi Stores (The Bombay Store) is expanding its e-commerce team and online reach as part of its expansion plans for the year. According to Moneycontrol, the company began ramping up its team in charge of its online store in April, 2011 and is adding more merchandise to the storefront.
The Bombay Store portal was launched in 2010 as an extension of their business to make it convenient for customers. The store offers a range of products including western and ethnic garments for men and women, accessories, home linen and furnishings, home products, eco-friendly handmade stationery, body care products, organic food products such as tea, herbs and pot-pourri and semi-precious and costume ethnic jewellery. The Bombay Store has 16 outlets in India. The company registered net profit of Rs 39.4 lakh compared to a net loss of Rs 19.9 lakh in FY10. Net sales for the fiscal 2011 stood at Rs 27.69 crore.
Other large retailers have also begun expanding their online storefronts, enabling them to cater to a pan-India audience. Recently fashion retail brand Globus Stores Pvt Ltd launched an e-commerce enabled website Globusstores.com. Aditya Birla Retail, which sells consumer electronics, home appliances, FMCG products, fruits, vegetables, groceries, frozen food, bakery, homecare and pharmacy products at supermarkets and hypermarkets through The More Store in top 20 Indian cities, is experimenting with e-commerce and conducting a pilot in Bangalore. Thomas Varghese, CEO of Aditya Birla Retail, told Techcircle.in in an exclusive interview that e-commerce would contribute to 3-5 per cent Of the company's revenues by FY2012.
---