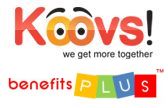 BenefitsPLUS Media Pvt Ltd, a New Delhi-based e-commerce firm, continues its acquisition spree as it eyes 10-15 per cent of India's e-commerce market. In a bid to fulfil that target, its parent company – Gurgaon-based DigiVive Services Pvt Ltd – has now acquired majority stake in one of India's top group-buying sites Koovs.com for over $2 million.
The deal that was closed last month involved part sale by promoters besides a fresh issue and will bring in $2 million as investment into the company. While BenefitsPLUS now holds a majority stake in Koovs, the firm's promoters continue as minority shareholders.
The infusion of funds will be used to scale up Koovs' operations and reach. The company currently employs 35 people and expects this number to reach 100 by the third quarter of the fiscal. Geographical expansion is also on the cards as Koovs plans to reach out to 40 more cities by next financial year.
BenefitsPLUS founder and CEO Paul Shoker had earlier revealed the rationale behind his acquisition plans. "We are closing the ecosystem. Since corporates get different discounts, this B2C model will give us an automatic leverage as we won't be building it from the scratch. We intend to grow inorganically to become a significant player in the daily deals space. So, we have also acquired two other e-commerce companies," he explained. BenefitsPLUS offers a white-labelled e-commerce platform for enterprises. It currently has around 500,000 members and registers an average ARPU of Rs 3,000. The company has 600 brands on board and offers an average discount of 55 per cent to users.
This deal, therefore, brings synergies between the two sites. While Koovs is a B2C site, BenefitsPLUS has focused on the B2B market till date. "We will share best practices and offers will be leveraged by both companies in a combined fashion," Rajesh Kamra, MD of Koovs Marketing Pvt Ltd, told Techcircle.in. The two firms will continue to work as separate entities though, and Shoker will head both groups as the CEO.
BenefitsPLUS has set aside $5 million, primarily for acquisitions, and this is its second acquisition in a month. The first was New Delhi-based Snowball eRetail Services, a B2B e-commerce firm. BenefitsPLUS is a part of DigiVive, a provider of mobile TV and interactive voice response (IVR) services. The company has recently partnered with MTNL to launch NexGTv service for 2G and 3G users, according to Shoker. DigiVive also has offices in Mumbai and New York.
Koovs Marketing Pvt Ltd was founded in 2009 in Bangalore by Rajesh Kamra, Manish Tewari and Amit Shukla. It offers discounts and vouchers on a wide range of categories – hotels, restaurants & pubs; spas, movie & drama, music classes, travel and holiday packages. It currently has 0.5 million users and is adding 50,000 users on a monthly basis.
On the key focus areas of the company this year, Kamra said, "We will focus on maintaining our market share in the daily deals segment. But we are looking at ourselves as a lifestyle products website and will become a top e-commerce player in India soon." Koovs will also announce technology upgrades.
---