India's booming telecom sector is drawing international solution providers. NASDAQ-listed Motricity) has established a new datacentre and development centre in the capital as it eyes the hundreds of millions of mobile users.
The USA-based Motricity offers a cloud-based platform called mCore, a suite of software that help telcos offer new services to subscribers. Solutions such as Connect, Marketplace, Ad Manager, Campaign Manager, Site Designer, MobileCast, and Insights allow the operator to conduct mobile messaging campaigns, gather analytics about mobile subscribers, set up m-commerce sites and place ads. By implementing such solutions, Indian operators are attempting to improve their flailing ARPUs (average revenue per user). In India, the average ARPU is at around Rs 160.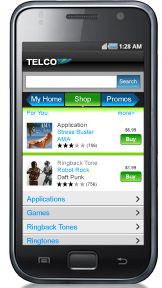 In India, Motricity has tied up with telco Reliance Communications to deliver an app store by July. With Motricity's Marketplace solution, RCOM users will be able to purchase content, applications and services through an app store on their mobile. Airtel and Aircel have already set up their own app stores - App Central and Pocket Apps Store.
"The decision to build Motricity's presence in India is driven by the explosive growth in mobile subscribers who hunger for a more robust user experience," said Mohit Rampal, managing director - sales for South Asia, Motricity.
The datacentre in New Delhi will handle India and can be expanded to serve all of S.E Asia in the future. Motricity has also set up a development centre in the city for software and product development, datacentre management, managed services and business analytics. It will also offer professional services and support to customers across Asia and the USA.
Motricity is on an expansion spree in Asia and is increasing its focus on countries such as India, Singapore, Malaysia and Indonesia for growth. The company refers to an Ernst and Young report which states that China and India are expected to host the next billion mobile subscribers globally. In other Asian countries, it has tie ups with Axiata, XL (Indonesia), Celcom (Malaysia), Dialog (Sri Lanka), Robi (Bangladesh) and Hello (Cambodia). The company is also ramping up on staff and infrastructure in Singapore.
James Ryan, chief development officer, Motricity, said, "The rapid evolution of mobile markets in Asia gives Motricity the opportunity to deliver high value, relevance-driven mobile data service experiences for our operator, brand and agency customers that make full use of our platform as well as our mobile marketing and advertising expertise and predictive analytics capabilities".
Motricity recently acquired Ontario-based mobile marketing solutions firm Adenyo for $100 million in cash and stock.
---