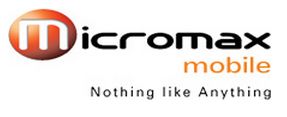 Homegrown handset maker Micromax has overtaken LG to become the third largest player in terms of revenues for FY2010-11, behind Nokia and Samsung. The IPO-bound company's revenues grew 43 per cent during the fiscal to register at Rs 2,289 crore from Rs 1,602 crore in the previous fiscal. It now has a market share of 6.9 per cent, according to an annual survey by Cyber Media's telecom industry journal Voice&Data.
Nokia remains the top handset maker in FY2010-11 with revenues of Rs 12,929 crore and a growth of 0.2 per cent from Rs 12,900 crore in FY2009-10. For FY2010-11, Nokia had a market share of 39 per cent. It has lost market share to domestic players such as Micromax, Karbonn and Spice in the low-end handset segment.
In the high-end phone segment too, Nokia faced tough competition from Samsung, BlackBerry and HTC. Another reason for its loss of market share was the lack of dual-SIM phones in its portfolio, according to the survey.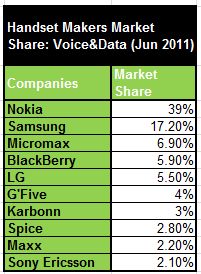 Samsung followed Nokia with revenues of Rs 5,720 crore and the company captured market share of 17.2 percent. Samsung's revenues rose 21.7 per cent in FY2010-11. Samsung's entry level smartphones 'Wave' and 'Galaxy S' by Samsung were especially successful. For FY2010-11, the company's 3G phones contributed 5 per cent of its entire sales.
The Indian mobile handset market grew by 15 per cent to touch Rs 33,171 crore in 2010-11 from Rs 28,897 crore in fiscal 2010.
Taiwanese handset maker HTC saw the highest growth in India - 99 per cent in terms of revenues, growing to Rs 450 crore from Rs 226 crore in FY2009-10 and it now holds a market share of 1.4 per cent.
Research in Motion's stays at #4. The Blackberry maker garnered revenues of Rs 1,950 crore in FY2010-11, up 61.2 per cent in FY2009-10. Its entry level smartphone saw more sales in the fourth quarter than all other three quarters put together.
Other Indian brands such as Lava, Intex and Zen showed flat growth.
Data Cards, Landlines
The market for data cards grew at 52.3 per cent to Rs 1,077 crore with Huawei and ZTE garnering Rs 630 crore and Rs 374 crore from this segment. The fixed phone market shrunk by over a quarter to post revenues of Rs 228 crore, with the public sector telephone instruments maker ITI's revenues slipping below Rs 10 crore mark to Rs 8 crore.
What's Next?
The Microsoft-Nokia partnership will lead to a WP7 phone in the next 6-12 months. Domestic handset players Maxx, Karbonn and Micromax will roll out made-in-India handsets from their own manufacturing plants. This will increase the number of budget phones available in the market in the fiscal.
---