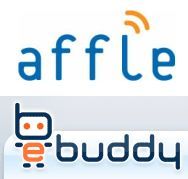 Singapore-headquartered mobile media start-up Affle has partnered with mobile instant messenger app maker eBuddy, giving it exclusive rights to sell advertising inventory in India.
This come close on the heels of news that Affle readying its own instant messenger app Pinch for launch in India. This will be the second product by the company. The first was SMS2.0, a text messaging app that offers customisation of your inbox and messages. Pinch will be available across various platforms – iPhone, iPad, BlackBerry, Android, Symbian, Windows Mobile, the Web and even Facebook.
eBuddy is an independent aggregator of instant messengers (or chat clients). It includes AIM, Facebook Chat, Google Talk, Hyves, ICQ, MySpace, Windows Live Messenger and Yahoo! in one app. It claims it has 2 million users in India and 30 million monthly users globally. The app processes over 17 billion messages per month. Rogier Van Den Heuvel, Chief Commercial Officer, eBuddy, said, "eBuddy has seen great acceptance and traction for a market like India. It is important for us to have the right solutions and partners to grow our business in India."
The privately held eBuddy recently launched XMS, a messaging app for iPhone, Android and soon Blackberry that offers a secure and free SMS service globally. eBuddy is backed by Prime Technology Ventures and Lowland Capital Partners.
Advertising clients of Affle will now be able to run campaigns on eBuddy and reach out to the Indian youth on the mobile. Coca Cola, PepsiCo, Hindustan Unilever, Samsung, Maruti Suzuki have already run successful campaigns on E-buddy in India after the partnership finalisation between Affle & E-Buddy.
Vipul Kedia, Regional Director – Partnerships, Affle, said, "Partnering with eBuddy helps us connect leading brand advertisers with millions of young Indian mobile audience who already use E-Buddy's popular messaging service. This association makes for a valuable addition to our mobile advertising propositions in the Indian market and we are confident that it will enable us to provide a lot more value to our advertisers and capture a larger share of the growing ad market on mobile social networking & messaging products in India."
Affle currently operates in Singapore, India, China, the UK, the USA, Indonesia, Australia, Thailand and Malaysia. Its investors include Microsoft Corporation, Itochu Corporation of Japan, Bennett Coleman Company Limited (BCCL); Centurion Private Equity and D2 Communications.
---