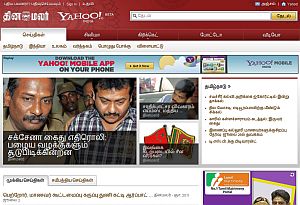 Local language consumption is set to rise fast on the internet with regional language news gaining a foothold in the digital domain. Tamil daily Dinamalar has partnered with Yahoo! India Pvt Ltd to launch Tamil.Yahoo.com. Dinamalar's Head – Marketing (New Media), Balasubramanian unveiled the plan by tweeting it last night.
The website is still in Beta and features a different interface from both Yahoo.com and Dinamalar.com.
This is the second regional language sub-site partnership Yahoo!, the first being In.Jagran.Yahoo.com in association with Hindi daily Dainik Jagran by leading media house Jagran Prakashan Ltd. Kanpur-based Jagran Prakashan has revved up its online business with websites catering to healthcare, education, e-commerce, videos and blogs. Totally, they receive a total of 95 million page views per month. Yahoo! also operates Yahoo! Telugu, Yahoo! Malayalam, Yahoo! Kannada, Yahoo! Gujarati and Yahoo! Punjabi.
Collateral online marketing and technology firms are also adopting regional languages to extend the internet audience. Microsoft recently added 11 Indian languages to its browser Internet Explorer 9 (IE9) such as Assamese, Bengali, Gujarati, Kannada, Konkani, Malayalam, Marathi, Oriya, Punjabi, Tamil and Telugu in a move to promote local language computing in India. And rightly so. They appear to have better monetisation capabilities for advertisers. According to a study by online ad network Ozone Media, advertisements in regional languages such as Tamil, Telugu, Hindi and Malayalam receive 30 per cent more clicks compared to ads in English.
Dinamalar recently launched apps for iPhone and iPad users, featuring news from around the world, India and Tamil Nadu in particular.
---