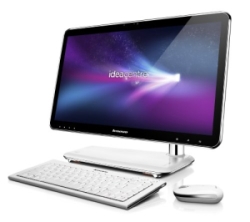 Lenovo, $21 billion personal technology company has launched the latest in line of the A series of personal computers code-named Lenovo IdeaCentre A320.  It is one of the slimmest all-in-one PC's in the market as of now and it is available for purchase at a price of Rs.51,190 plus tax.
The PC has a 21.5 inch LED screen and is powered by 2nd Generation Intel Core i3 2310M (2.1 Ghz/ 3MB L2 Cache) processor with Intel turbo boost technology 2.0. It runs on the Windows 7 Home Premium operating system and has 3GB of RAM and a 750GB hard disk.
Lenovo develops, manufactures and markets technology products and services and has customers in more than 160 countries. It is the world's fourth-largest PC vendor and has research centers in Japan, China and North Carolina.
The PC also has USB 3.0 port along with the regular USB 2.0 ports and comes with integrated Bluetooth and high-speed 802.11n Wi-Fi. It also comes with wireless keyboard and mouse and has a new Lenovo HD high-sense webcam for better resolution for things like video chat. Lenovo IdeaCentre A320 will come with a 3 Years onsite warranty and McAfee Antivirus Pack that is valid for an entire year.
The company had a 9.7 per cent share in the desktop and mobile PCs market in India in the month of May this year and Lenovo India had announced several management changes in a move to strengthen the company.
The new PC faces stiff competition in the form of Apple's iMacs in India. Although it is of the same screen size as the smaller version of the iMac, in terms of configuration, the iMac wins hands down. It has a Intel i5 Quad-core processor and 4GB of RAM. Additionally the feel of the iMac is much better and it also has a Thunderbolt port. The only saving grace of Lenovo is its price, it is almost Rs.15,000 cheaper than the cheapest Apple iMac which is priced at Rs.64,900.
But the big question is that whether there is actually a need for an all-in-one (AIO) PC like the one offered by Lenovo in today's scenario. In a world that is rapidly opting for tablets and smartphones instead of the traditional desktops and mobile PCs due to the additional portability and convenience they provide to the consumers, IdeaCentre A320's configuration does not pose much of a threat to anyone. It's like Lenovo has entered a real fight with its kid gloves still on.
---