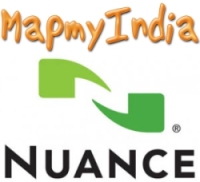 MapmyIndia, a location based services and maps company has tied up with Nuance Communications for a seven year partnership to provide street level turn-by-turn voice navigation on its future devices. As per the agreement, the upcoming devices from MapmyIndia will include Nuance's text to speech engine- Vocalizer for Automative, according to Medianama.
The company plans to launch the new devices before the year ends and although the device will initially support only Hindi and English, other Indian languages will be added in the future.
In an announcement about the tie-up made by MapmyIndia at VAS Asia 2011, the company stated that the Nuance engine will be tweaked so that it gets the correct pronunciations of Indian street names and other points of relevance across 1200 cities. This is a good step since a majority of Indian population has trouble understanding the English accents of other countries.
The company is also creating a phonetic database which will include street names and landmarks of different parts in India in the localized Indian accents.
In the last three years, MapmyIndia has seen a growth of 600 per cent and currently their maps have 1,027 cities with street-level details. The coverage includes all the six lakh villages and towns in India and they have four million points of presence. The company has also upgraded the maps with door-to-door driving directions for New Delhi, Mumbai, Navi Mumbai, Thane, Kalyan, Pune, Pimpri-Chinchwad, Bangalore, Chennai, Hyderabad, Gurgaon, Faridabad, Noida and Greater Noida, Ghaziabad, Chandigarh, Mohali and Panchkula.
Although what will really work in their favour is if they can introduce the voice navigation feature in their mobile phone application too. Also the accuracy of the pronunciations with respect to the Indian consumers will play a major role in determining the success of the turn-by-turn voice navigation in India.
The company plans to invest $20 million in the next three years towards hiring people, adding more products and services besides scaling up. This will partly be funded by the $9 million MaymyIndia raised from Qualcomm in February, 2009 and the rest by the company's savings.
---