Will Achieve 100% Growth In E-Com This Year- Pawan Gadia, CEO (Online & Retail), Ferns N Petals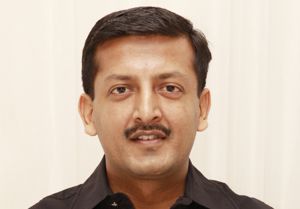 Flower retail chain Ferns N Petals' e-commerce division is the fastest growing unit of the five divisions of the group. Launched in 2002, the website FNP.com delivers fresh bouquets to 110 cities across India on the same day when you place an order. This year, the online retail service is investing heavily in the technology platform and stepping up its branding efforts with an aim to double its growth. Pawan Gadia, CEO (Online & Retail) at Ferns N Petals, tells Techcircle.in about the growth in traffic at the website, the new tech platform powering its operations, the road-map for the year ahead and how he plans to achieve the 2x growth.
Can you share with our readers how your e-commerce site has been scaling up traffic-wise over the past nine years?
Traffic has been growing well throughout these years. Since we are a niche and vertical site, the number of people visiting us is low as they are a focused user base. Most of our users are between 16-35 years of age and belong to the top 10 metros. Around 80-85 per cent of our business comes from these cities.
We have around three lakh people visiting FNP.com per month and 65-70 per cent of them will be our unique customer base. Around 20-24 per cent forms our repeat user base. We expect the traffic to grow by 40-50 per cent this year.
What has been your revenue growth and how are you placed now? How important is the online business to Ferns N Petals?
In the first couple of years, our revenues grew by 35 to 40 per cent. And in the last four years, we have been recording 60 per cent growth and have hit a block – we are not able to cross this mark. This year, I am confident that we will cross it and grow by 85 to 100 per cent. Currently, our revenues are at Rs.20 crore.
In terms of contribution to group revenues, e-commerce was at 20 per cent last year and this year, it has grown to 24-26 per cent. We are the fastest division in terms of growth and it's considered an important part of the group. And the future is bright- e-commerce is a very scalable business and the potential is infinite.
What are the key factors triggering this increase?
The e-commerce industry today has crossed an inflection point. You can see the large number of customers being attracted by websites and the growth of broadband and credit card usage online. Aspirational buys are also more frequent. The youth today is also more expressive and what better way to express your emotions than to say it with flowers?
The e-commerce sector, apart from travel, already represents a market worth Rs.7,000 crore. Of this, the gifting industry is worth around Rs.150 crore in India. Here, gifting mainly consists of flowers, chocolate, cakes and soft toys.
And where do you stand in terms of competition?
We own around 18-20 per cent of the market share today. But the market is extremely fragmented, with sites like Indiatimes, Indiaplaza and Rediff offering flowers, but none of them is specifically targeting this segment. Other websites like Floraindia.com are still small and the service offered by Flora2000.com is different from ours.
Will there be new features on the site and/or technology investments?
We are strongly focusing on customer delight and concentrating on the 'wow' factor online. This year, it will be customer service and technology for us.
Our new tech platform is in beta testing and it will be launched by September 1 this year. We have studied the models of various North American sites and decided to combine the best-of-breed components from various vendors which will be integrated into a centralised BPM engine. This will allow newer and faster upgrades, and more flexibility in terms of how we showcase the products, schedule shipping, etc. The technologies involved are implemented in-house as it is a complex system. In fact, we have allocated Rs.1 crore on technology this year; compared to our typical spend of Rs.25-Rs 30 lakh per year. Our burn rate is currently around Rs.15-Rs.20 lakh.
What is your current reach and what are your expansion plans?
We have tied up with 200-plus florists so far and cater to 150 cities and towns across India through these direct tie-ups. But we have not increased this number much; it was probably 140 last year. But in terms of next-day delivery, we have added 400 small towns this year. So, we have a guy in the nearest city who will deliver flowers to nearby Tier II and Tier III towns.
We have 35 people in our call centre and 12 in technology, with business development and sales divisions employing another 22 people. And we are ramping up in a big way, like all e-commerce players do.
Can you share your online marketing and advertising plans?
We will launch an advertising campaign between August and March with the message 'Flowers equals Ferns N Petals.' We are spending Rs.1-Rs 2crore on the media campaign.
Ferns N Petals is now expanding company-owned physical outlets. How will it affect your e-com biz?
We are so widely known because of our on-ground retail presence. When someone sees a brick-and-mortar outlet and then searches for it online, they feel reassured about the brand and the trust factor that goes with the brand will help us. As we launch more company-owned retail outlets, brand visibility and the quality of flowers we deliver will improve further.
What is the current transaction size on the website?
The ticket size is increasing every month and currently, it's at Rs.950. Last year, it was Rs.800.
Since Ferns N Petals is trying to re-brand itself as an affordable service, will you be reducing the pricing and will this lower transaction sizes?
Not really. If I look at FNP and others brands, I am on par with them. So, it is a matter of communicating our value to others.
Comment(s)