Buoyed by the success of launching bus, local train and metro service information for routes of for Mumbai, Delhi, Pune and Bangalore, technology giant Google has launched the same to cover Chennai and Hyderabad. Google India has launched the availability of bus service information in Chennai and Hyderabad on Google maps' transit information, the company said on its official blog post.
"This launch will help millions of commuters and visitors in these metro cities to explore public transportation options as they search for directions or locations, and encourage alternatives to driving," Kapil Goswami, Business Development, Google India said on the blog.
This information is available both on Google Maps and Google Maps for mobile enabling users to access the service even on the move, Goswami added.
With the addition of Chennai and Hyderabad, Google India now cover bus and local train/Metro routes for Mumbai and Delhi, bus routes for Pune, Delhi, Ahmedabad  and Bangalore and local train/metro routes for Kolkata and Chennai.
The route information, also lists bus details including its starting and end points, and frequency. However, the accuracy of this information would depend on a lot of other 'real world' factors, such as traffic and other blockages.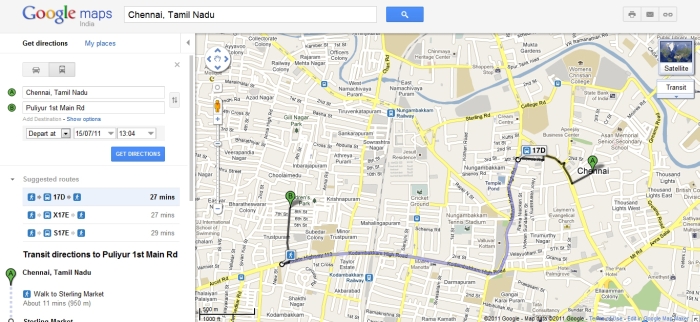 The service works like this:
The user searches for information to reach from Place A to B on Google Maps and the result shows a map with the possible route and driving directions for the commuter.
By choosing the transit option, commuters would get first-hand information on routes and schedules.
Commuters get to see the step by step directions for the entire route including frequency, travel duration for each leg of the trip in text and on the map.
---