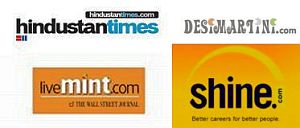 HT Media Ltd's digital business segment reported a 21.8 per cent increase in loss ( segment loss before interest and tax) to Rs 11.99 crore for the quarter ended June 2011 from Rs 9.84 crore in the year ago period even as revenue from the business rose 38.9 per cent to Rs 8.56 crore from Rs 6.16 crore in the first quarter of FY10.
HT Media that publishes the English daily Hindustan Times, regional newspaper Hindustan and financial daily Mint, has a diversified digital business that runs news sites Livemint.com, Hindustantimes.com, placement portal Shine.com, social networking website Desimartini.com and HTCampus.com which is an education website. It also runs an SMS based service 54242 with VAS such as ringtones, wallpapers, games, news, cricket, astrology and chat services through HT Mobile.
The media group has underlined its commitment to digital business, saying it is "continuing investments in the digital space to build long term growth engines," according to a corporate presentation. In the quarter, it invested Rs 3.64 crore in its subsidiary HT Digital Media Holdings Ltd as application money for issuing Compulsorily Convertible Debentures (CCDs).
Job board Shine.com which is run by subsidiary Firefly e-Ventures, now has 7 million resumes in its database. That's 0.5 million added in the quarter.
Shine.com competes against InfoEdge's Naukri.com and Monster India Pvt Ltd. Firefly also runs a social networking site called DesiMartini.com.
Its education site HTCampus.com now has 4 lakh candidates and 24,000 institutes registered. HT Media claims it is the second largest education portal in terms of traffic.
Mobile apps via the company's 65:35 joint venture with mobile advertisement solutions company Velti Plc, is also growing strongly, according to the company. It reports that ad campaigns on HT Mobile are increasing.
Firefly e-Ventures also runs news sites Livemint.com and Hindustantimes.com.
Group Consolidated Revenues
Boosted by growth in print ad revenues and its Fever 104 FM radio business, HT Media Ltd group registered a 24 per cent growth in net profit to Rs 51.5 crore in the quarter ended June 2011 over Q1 last year, over total revenue of Rs 496.9 crore, which rose 23 per cent year-on-year. The company recorded an EBIDTA of Rs 104.9 crore, up 22 per cent from Rs 85.7 crore during the same quarter last year.
Ad revenue across all businesses rose 17 percent from Rs 328.9 crore to Rs 384.4 crore.
Radio Rev Up 75%
HT Media's radio subsidiary Fever 104 FM incorporated programming innovations and outperformed in the quarter, with revenue from its radio and entertainment business rising 75 per cent to Rs 21.5 crore from Rs 12.3 crore in the same quarter last fiscal. From a negative EBITDA of Rs 1 lakh in fiscal 2010, the radio division's EBITDA has risen to Rs 3.4 crore with a margin of 16 per cent. The radio division runs four stations in New Delhi, Mumbai, Bengaluru and Kolkata.
HT Burda: EBITDA Break Even
In its second year of operations, the group's 51:49 joint venture with German media group Hubert Burda for a magazine and catalogue printing facility - HT Burda Media Ltd - achieved an EBITDA break-even from a negative EBITDA of Rs 1.3 crore. It registered a 75 per cent rise in revenue to Rs 24.5 crore from Rs 2.4 crore in the same quarter last fiscal. HT Burda was set up to print large volume of magazines, catalogues and books and has clients such as Unitech Ltd., Cairn India Ltd. and Spicejet as well as global clients such as Outiror and Sweden based IKEA.
Print Reach
HT Media's flagship publishing division increased its reach over the quarter. Hindustan Times now has a readership of 36.9 lakh while Hindustan's average readership pan India grew 3 percent on a sequential basis to 1.18 crore. Meanwhile its business daily Mint has registered a 12 percent sequential increase in readership to 2.2 lakh and claims that 84 per cent of its readers are not reached by its competition.
StudyMate
The group is now betting on the fast growing education sector with a supplementary coaching division called Studymate.
HT Media has partnered with coaching centre chain MT Educare Pvt Ltd which runs Mahesh Tutorials, to run six Studymate coaching centres. Studymate will cater to education needs of students between standards 9 and 12. The six centres have registered 1,400 students in New-Delhi and NCR.
Shobana Bhartia, Chairperson and Editoral Director, HT Media, said, "We have taken baby steps in education segment which we believe would be a significant avenu growth in the long term."
Group Standalone Revenues
On a standalone basis, the group has registered a 19.44 per cent rise in revenue to Rs 330.74 crore from Rs 276.89 crore recorded in the same quarter last fiscal. Net profit rose 66.75 per cent to Rs 52.81 crore in the quarter ended June 2011.
---