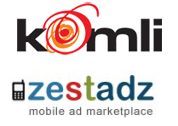 Online ad network and audience measurement provider Komli Media India Pvt Ltd has acquired Los Angeles-based ZestAdz, a mobile ad platform with offices in Des Moines, Iowa and Chennai. However, the deal value was not disclosed.
Founded by Asif Ali, Nat D Natraj and Terry Uppal in 2007, ZestAdz offers targeted mobile advertising to clients in India, the USA, the European Union, Indonesia and other parts of South-East Asia. It offers ads on all mobile platforms including iPhone, Android and J2ME. Ali, who is a mobile veteran and entrepreneur, told Techcircle.in that the company is well ahead on its road to earn $50 million in revenues by 2013.
With this acquisition, Komli fills the gap for mobile advertising in its bouquet of solutions for display ads, video and social media for search marketing and audience measurement. Amit Bhartiya will lead the global mobile ad network unit, in addition to his existing responsibility as Vizisense vice-president.
"We have been thinking about the acquisition for some time now. ZestAdz is a fantastic platform we can leverage. Asif Ali has a strong tech background and has been in mobile space for the past 15 years. We are looking forward to bringing the full gamut of services through Komli," said Prashant Mehta, CEO of Komli Media India Pvt Ltd.
Besides India, Komli has been focusing on other Asian markets and ZestAdz's reach in Indonesia is in line with the company's growth strategy. In June this year, Komli had acquired Aktiv Digital, a Singapore-based online media firm for branding, lead-generation and marketing, to further strengthen its reach in Asia. The ad network has over 20,000 publishers on board.
In January, 2011, Komli raised $15 million in a funding round, led by Norwest Venture Partners. The company has also partnered with a small digital agency in the Middle East and is looking to partner with more local companies.
ZestAdz Plans
Currently, ZestAdz delivers five billion mobile impressions globally and one billion impressions in India on a monthly basis. But this is expected to ramp up quickly as the company plans to increase its capacity 10 times in August this year, Asif Ali, CEO of ZestAdz, told Techcircle.in.
"This investment will allow us to market ZestAdz strongly. There are synergies with Komli, but mobile is also a unique value proposition and requires a greater level of investment to educate the market. As mobile is becoming more important, the mindset of advertisers is also changing," said Ali.
The company currently employs 22 people in its Chennai development centre, which will be integrated with Komli's operations. Komli has offices in Bangalore, New Delhi, Singapore, London, New York, Palo Alto, Toronto, Sydney and Melbourne. Post-acquisition, Komli plans to double the size of the ZestAdz team, key management personnel informed Techcircle.in.
ZestAdz targets four major sectors – FMCG, telecommunications, automotive and e-commerce. Some of its clients include FMCG majors Unilever, P&G, and e-commerce sites Fashionandyou.com and Dealsandyou.com.
"We will extend mobile services to our existing customers and strengthen this division. Now, we have the ability to add the mobile edge to all our solutions and offer app-based advertising. And our clients can leverage them for any specific event. This brings the mobile advantage to the core of our services," added Bhartiya.
Ad networks in India include Jivox, Vdopia, Ozone Media, Smile Group's Tyroo, Networkplay, Media Estate, IndiAds and AdsForIndians, Guruji's mobile ad platform Adiquity and OMG.
---