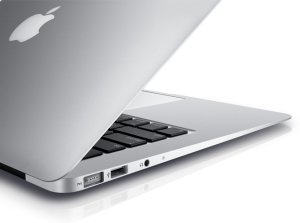 Apple has finally launched its new MacBook Air series and to top it it has also included the latest operating system offering called the 'Mac OS X Lion' inside it. The new laptops will be available in the screen size of 11 and 13 inches and will also include a Thunderbolt port for lightning fast file transfer.
The laptops are available in the US for a price of $999 and $1,199 for the 11 inch models and $1,299 and $1,599 for the 13 inch models. When we tried to access Apple's India store, it displayed a message that read "We are updating our catalogue, we will be back soon," which can only mean that the Indian prices will be up in a day or two.
The new laptops have a screen size of 11.6 and 13.3 inches (diagonally) and have a high-resolution LED-backlit glossy widescreen display with support for millions of colours. All the models have the new Mac OS X Lion operating system with a 'Lion Recovery' feature that enables the consumers to repair disks or reinstall OS X Lion directly from the laptop without having to use a physical disc.
The 11 inch models run on a 1.6GHz dual-core Intel Core i5 (with 3MB shared L3 cache) processor and are available in 64GB and 128GB of flash storage, while the 13 inch MacBook Air models run on a 1.7GHz dual-core Intel Core i5 (with 3MB shared L3 cache) processor and are available in 128GB and 256GB of flash storage.
The graphics are provided by Intel; the cheapest 11 inch model of the MackBook Air has an Intel HD Graphics 3000 processor with 256MB DDR3 SDRAM shared with the main memory, while all the other models have an Intel HD Graphics 3000 processor with 384MB of DDR3 SDRAM shared with the main memory. Similarly, the cheapest 11 inch model has 2GB of 1333MHz DDR3 on-board memory, while the other models have 4GB of 1333MHz DDR3 on-board memory.
The 11 inch models have two USB 2.0 ports and a Thunderbolt port while the 13 inch models have an additional SD card slot. Apple promises a battery life of 5 hours and 7 hours for the 11 inch and the 13 inch models respectively and a standby time of a month for the laptops. The MacBook Air comes with 90 days of free telephone support and a one-year limited warranty which can be further extended with the help of the AppleCare Protection Plan.
The laptops have Wi-Fi and Bluetooth and come with stereo speakers and a FaceTime camera for video chat that is even smaller than the one in the iPhone 4. The MacBook Air has Multi-Touch trackpads and Apple has finally added a backlit keyboard for typing in low-light conditions (thank god) and the keyboard is full-size keyboard and not a condensed version.
Additionally, although the MacBook Air comes without a DVD drive, a new feature of OS X Lion enables DVD or CD sharing. This feature enables the consumers to wirelessly 'borrow' the optical drive of a nearby Mac or PC. This can come in handy since people won't have to carry an optical drive with them everywhere.
The dimensions of the laptops are as follows
11 Inch Air- 0.3-1.7cm (H) x 30cm (W) x 19.2cm (D) and it weighs 1.08 kg
13 Inch Air- 0.3-1.7cm (H) x 32.5cm (W) x 22.7cm (D) and it weighs 1.35 kg
The MacBook Air will directly compete with laptops from Sony and Dell who have also launched their own versions of super-thin laptops in a world fast moving towards tablets. The price of MacBook Air laptops in India will also play an important role in determining the winner, since the Indian prices are usually more than the US prices. We will update you with the India prices as soon as they are available on the Apple website.
With the new and improved MacBook Air's hitting the market, it's time to finally say goodbye to the original MacBook. After all, since Apple already offers the MacBook Pro series (for those who crave for features and muscle power) and the improved MacBook Air (which will provide ultra-portability performance), where is the need for an ordinary thing like the MacBook? If you check out Apple's US store, you won't find the MacBook on sale there, guess it means R.I.P MacBook.
---