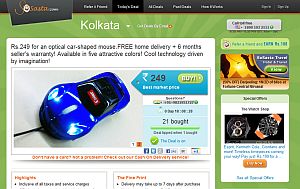 Barely six months after acquiring one of the many local spin-offs of its own business model, the world's largest group buying site GroupOn's India strategy appears to be headed for a trough.
It began with the data breach at SoSasta (the Indian site it acquired to enter the market which has, in effect, become GroupOn India) last month. Techcircle.in has now learnt that some key people from the top management are looking to exit from the company, which is rumoured to have an attrition rate of 50 per cent. The company is also battling for its online presence as another firm has taken up the domain name Groupon.in.
The data breach hurt SoSasta's image in India and GroupOn's image globally. And the timing was bad. GroupOn had just filed for an initial public offering in the USA to raise up to $750 million and issues such as this, flaring up during such a sensitive period, are cause for worry.
To understand more about Chicago-based GroupOn's business model and key metrics, read Techcircle.in. In India, the site serves users in 11 cities and features a daily deal on the stuff to do, see, eat and buy. GroupOn India is headquartered in Bangalore and has operations in Chennai, Delhi, Mumbai, Kolkata and Pune.
Vanishing Logo
What raised eyebrows were the changes in the logo and the tag line that went with the Indian brand. The 'by GroupOn' tag was removed, leading many to believe that GroupOn was disassociating from SoSasta. SoSasta's platform and servers are currently not consolidated into GroupOn. Speculations that GroupOn might have paid a settlement to SoSasta for disassociating are also doing the rounds. GroupOn is taking cautious steps to safeguard its image and all queries are being redirected to GroupOn's international media relations team.
A source shares that the logo change is a legal matter. "GroupOn cannot use its name in India yet due to legal requirements and that is the reason they had to remove it from SoSasta's logo," he said.
The company also maintains the same line. "It is due to certain legal issues," GroupOn media spokesperson has told Techcircle.in, without offering further details. The company has said that there is no truth in the rumours that GroupOn is disassociating from SoSasta.
Domain War Is On
Now there is another issue facing the company. The fight for the domain Groupon.in, which the company has been attempting to buy (it currently owns Sosasta.com) is dragging on. GroupOn's spokesperson was not forthcoming on whether the company is still attempting to buy the domain name. "We would not be able to comment on this as the matter is sub-judice," the spokesperson said.
The website, which used to feature a mere logo 'GroupOff', has now changed to a full-fledged site for GroupTable, a company that claims to offer group dining. Groupon.in is currently owned by Bangalore-based ValueNet Ecommerce Pvt Ltd, run by a Mohan Rao. ValueNet claims it will "launch new business models based on web platform." Rao had registered the site on September 12, 2009, via US-based domain name registrar ENom.
When we attempted to call ValueNet, the operator responded with, "Groupon India, how may we help you?" The operator had not heard of Ananya Bubna who is the co-founder of SoSasta and now the managing director of GroupOn India. She said, "There is no employee by that name." [sic]
High Attrition
Meanwhile, at the Bangalore headquarters of GroupOn India, the phone went unanswered. Techcircle.in has learnt that many of its employees are looking to exit, including some of the top brass. A source in the group buying sector said, "They have crazy attrition rate in the business, almost 50 per cent. Senior executives are also hunting for jobs."
The company spokesperson stated: "The attrition is normal and does not show any fluctuation beyond the last three months' average."
What The Future Holds
GroupOn's India MD had grandiose plans for scaling up. Bubna recently told Techcircle.in that he plans to hire sales people all over India, in tier II cities like Lucknow, Kanpur, Guwahati, Bhubaneswar, Surat, Ludhiana, Vishakhapatnam and Thiruvananthapuram.
The fate of these plans will depend on the management headroom that Bubna and his team are able to manage from the US-based parent. Some say GroupOn's global management has told the India management (the Bubna brothers) to conduct the business on their own for now, and that they will review the arrangement after the IPO. On the dynamics between SoSasta and GroupOn's global management regarding day-to-day operations, GroupOn's spokesperson has told Techcircle.in, "This is an internal matter. We would not be able to comment on it."
Globally, GroupOn continues to suffer losses even on strong revenue growth. In the first quarter ended March 31, 2011, the company recorded $644.1 million in revenues and posted a loss of $103 million. SoSasta recently launched domestic travel deals on the website and signed a partnership with Tata's chain of Ginger Hotels.
Other deal sites in India include Rediff's Deal Ho Jaye, Times Internet's (Indiatimes) Timesdeal.com, eBay India, Snapdeal.com, Dealsandyou.com, MyDala.com, Koovs.com, Dailydeal.in, Dealivore.com, Khojguru.com, Thekha.com, Scoopstr.com, 24Hoursloot.com, Masthideals.com, Snatchdeals.com, Lootmore.com, 30Sunday.com and Bindasbargain.com.
At a time when the e-commerce business is hotting up in India after floundering for more than a decade, GroupOn's travails can well be a result of competitive pressure. Cybersquatting is not unusual around the world and people do leave for better job profiles and remunerations. Data breaches have also been a global phenomenon, with giants like Sony being brought down to their knees.
Business rivalries and an understanding that GroupOn cannot comment as it has filed for its public issue in the USA, can also be partly behind the rumoured problems at SoSasta. The truth will come out sooner than later, but either way, the going may not be easy for the firm in the world's second fastest growing (major) economy.
---