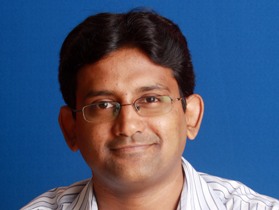 According to a recent IAMAI report, the e-commerce market in India is growing at 30 per cent annually. And eBay, India's oldest online marketplace that sells over 2,000 categories such as technology, lifestyle, media and collectibles, is confident of exceeding this growth. Consequently, the company is now investing in social media, mobile apps and payment processes. Techcircle.in caught up with eBay's country manager Muralikrishnan B. for a status check and brings you the latest information from the e-commerce leader.
What are the key trends in e-commerce – global and local?
India is on the cusp of an e-commerce revolution and New Delhi, Mumbai and Jaipur are the top three hubs in the country. But last year also saw an active online shopping trend in rural India. Online shopping is actively done across 1,054 rural towns, with Ambalapuzha (Kerala), Sajiyavadar (Gujarat), Adala (Gujarat), Abdalipur (West Bengal) and Kangayampalayam (Tamil Nadu) as the top hubs.
The second big trend is mobile shopping. Given the ubiquity of the mobile phone in India, as well as the rising penetration of 3G, we expect that mobile internet will drive the next wave of e-commerce growth in India.
Internationally, we have seen the emergence of local and social commerce, which will be major factors influencing the evolution of e-commerce in India.
From 1.7 million registered users in February, 2006, eBay India has now 2.7 million registered users (March, 2011). Is this growth satisfactory? What are your projections for the next five years?
The growth has exceeded our expectations. But it would be speculative to share our projections over the next five years. However, every month, eBay.in witnesses three million unique visitors exploring the site and engages with another million through social media channels.
Can you tell us about the new block design UI and the separate 'For Him' and 'For Her' landing pages? What's the response from users?
The idea behind 'For Him' and 'For Her' was to create an onsite experience that mirrors the offline retail experience. It began when we observed that an increasing number of women were shopping online and we decided to create a different experience for them.
We are attempting to understand the different ways in which men and women shop online. Our users tell us that they appreciate the curated inventory, showcased according to specific interests. This has given us the confidence that women will be a significant segment of online shoppers in the near future. In fact, around 38 per cent of our Facebook fans are women.
How do you leverage social media to connect with users?
We have started investing in real-time customer support via social media. Also, we showcase our products and services deals on various social media platforms. For instance, eBay India's Facebook fan page already has 7.5 lakh followers and we will scale it to a million fans soon.
What are the innovations happening in e-commerce technologies and processes?
The big innovations are happening in the mobile space, especially in the realms of augmented reality, location-based services and click-and-search, using bar codes. In social commerce, we will see more innovations on how to leverage the vast audience on Facebook to engage with users and drive transactions. Logistics and fulfilment are also potential areas for interesting India-specific solutions.
What is the traction experienced by your mobile-optimised site? What are your plans for m-commerce?
Well, eBay India has gone mobile only a couple of months ago and it's still at an initial stage. But so far, the response has been very encouraging. Over the next few quarters, we plan to enhance our portfolio of mobile services with applications for smartphones.
Globally, eBay delivers $2 billion of gross merchandise value (GMV) through its mobile applications and this is expected to double this year. As per our estimate, we have 30 per cent market share of the mobile commerce market globally.
What are the most preferred payment options on eBay? Do people prefer to pay via PaisaPay or opt for the cash-on-delivery model?
An overwhelming majority of our buyers prefer PaisaPay where you can make online payments using your credit card. Cash-on-delivery is also an interesting option for a market like India but it faces quite a few challenges in terms of costs, shipments not being accepted and delays in remittances. We are now working with major courier companies towards implementing an effective COD solution that can address some of these challenges.
Groupon India recently suffered a data breach. Also, cybercrimes are getting more threatening even in developed countries. What are the critical steps needed to ensure the security of your user base?
We believe that the privacy and security of user data are paramount for e-commerce. Our global platform provides the best security infrastructure at our data centres, with encryption of critical information in storage as well as in transmission. We don't store credit card or debit card details of our members either. Card details must be entered afresh for every transaction, with the additional security measure of password authentication. These are necessary to protect payment processes and user data.
What can our readers expect from eBay this year in terms of new features and services?
Well, there will be lots of interesting stuff coming in the areas of m-commerce, deals and promotions. We will also scale up our product-based search for enhanced user experience. But that's all the information we can share right now.
Are you planning any acquisition in India?
It is not a priority for us.
---