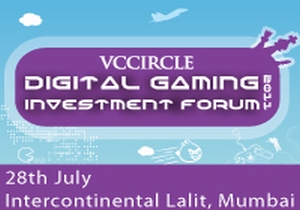 There could not have been a more relevant multi-million dollar question for the VCCircle  Digital Gaming Investment Forum which is currently underway – are there any investors out there and if yes how do they think money is going to be made in gaming?
An interesting panel on this one – Ravi Adusumalli, Managing Partner of Saif Partners, an Asia focussed private equity firm with multi baggers in his portfolio like Makemytrip, Rajesh Rao,  a veteran of the Indian gaming scene, Sreeram Vanga owns a Malta based company specializing in casino gaming, and Lalit Sarna, who introduced himself as Chief Janitor of his company has his first product in closed Beta. Nitish Mittersain joins them as well – he's one of the original pioneers of the Indian gaming scene.
With a range of monetization options available - Paid Download, Advergaming, Sponsorship, Subscription, and In-game Purchases, it will be interesting to figure out what makes the panelists see green!
Ravi kicks off with asking the panellists – is it finally time for the Indian gaming industry to explode on the scene "the benchmark is clearly China!
Rajesh Rao shares some interesting numbers – 12.2 per cent of online users (100 million) in India are casual gamers, 50 per cent on them are on mobile. He is looking at 125 million players by 2015 – question is how many will pay? Telcos advertising games to induce 3G subscription is an interesting trend Rajesh points out!
RBI gets a rap on the knuckles – very deserved – for stifling game monetization through the micropayments route, oh well!
Nitish can barely hide his frustration with investors when he talks about their seasonal mood swings – trust gamers to dispense with political correctness right away!
Hmmm – more talk on mobile gaming, expect more mention as the day progresses.
Lalit is next – start up guy – operating out of a basement in Gurgaon, will his innocence spark new thoughts? Lalit's kicked about being device agnostic and he thinks that we need to start building now with a billion dollar market perspective – that's the kind of creative adrenaline induced optimism we need! Price point is critical but there is a need to differentiate Lalit says, is there an India specific content context that Indian game developers can build?
Sreeram brings an international perspective to this panel, they have just entered the Indian market. He observes that players values in India are 20-25 per cent more than in Europe – wow that is quite a myth breaking statement! Now we are talking!
But Indian audience will pay for something relevant to "them" not for virtual goods that someone in the U.S. or China will pay.
Know your customer and get your pricing right – that was short and sweet from Sreeram!
Ravi makes a great point - China has huge competitive advantage since Chinese govt. supports their Internet companies far more than in India. Now where have we heard that before!
Rajesh makes a controversial statement – focus on users now not revenues
Ravi as a VC backs him up – who says investors and developers don't think alike!
Lalit makes a good point – we need to learn from ecommerce companies in India who have successfully monetized!
Sreeram disagrees with the "monetize later" viewpoint – this is a lively quality discussion now.
Nitish believes mobile which has for long been under monetized is looking up as well and advocates focusing on the users as well.
So that is 3-2 in favour of the "user vs. monetization now" argument on the panel.
I am struck by the fact that all on the panelists are talking macro but no one is talking micro about blockbuster products which can kickstart the Indian gaming scene – is that where the problem lies?
Ravi asks the killer question – how many Indian game developers are just outsourcing providers and how many are building products for the Indian market?
Ponder over that one folks because the choices we make now will determine where Indian gaming goes from here.
As opening sessions go there is always a danger of a lukewarm start but we have kicked off in style here – thanks to some great moderation by Ravi Adusumalli of Saif Partners.
---