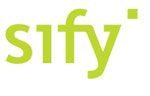 Enterprise services business continued to drive revenue growth for NASDAQ-listed Indian Internet and IT firm Sify Technologies, which posted a 32.9 per cent sequential rise and 31 per cent yearly rise in consolidated revenues to $50.73 million for the quarter ended June 30, 2011.
Consolidated net loss before tax has increased marginally (0.6 per cent) to $1.91 million in the quarter and halved compared to the same quarter last year, when net loss before tax stood at $4.05 million.
Sify's enterprise services grew 40 per cent over the corresponding quarter the previous year and included a $10.3 million project executed for a large telecom company.
Raju Vegesna, Chairman, Sify Technologies, said, "It gives me great pleasure to report that our recast business structure is beginning to show results. The unbundling of our broad service portfolio and making them available across all customer segments has increased the flexibility and scalability of our business. Our initiative to focus on Sify software as a separate organisation supporting several application services to carrier, enterprise and small business customers is seeing acceptance and gaining good traction."
The company's EBITDA increased more than fivefold to $2.8 million, as compared to $0.51 million in the corresponding quarter last year. Capex during the quarter was $1.68 million and its cash balance at the end of the quarter was $14.99 million with undrawn line of credit of $3.25 million.
Sify is betting on projects for the Indian government and is readying three State Data Centres.
Vegesna added, "The government of India's move to classify the proposed fibre-optic network as a national resource and make it available on equal terms to all operators wishing to provide broadband services will lead to a more level playing field for Sify. It will also allow us to further leverage our investments to deliver value-added services to customers across India. We are ideally positioned to ride the IT services wave in India with our network coverage, data centres footprint across metros and small cities, home-grown applications delivered on the cloud model and our international bandwidth capacity."
In an interview with Techcircle.in he had recently elaborated on the global strategy, acquisition opportunities, Sify.com and the Indian technology growth story.
The company continues to expand its capacity through a new data centre for Sify Software. Sify has a network connecting 667 cities and six data centres.
Quarter Financial Highlights
Enterprise business: Within its enterprise business unit, Sify's network services division saw revenues from Internet growing by 18 per cent. It registered 680 million minutes on ILD for the quarter. The hubbing business grew by 55 per cent over last quarter in terms of revenue while wholesale data carrier revenue registered growth of about 25 per cent over the preceding quarter. IT services grew by 67.4 per cent year on year while its hosting business grew by 23 per cent. Managed services including Cloud services registered a growth of 18.4 per cent vis-Ã -vis same quarter last year. Its System Integration (SI) business has grown by 114 per cent on an annual basis.
Commercial & Consumer: Sify now has 2,000 retail broadband access points via its "Mylife" outlets.
The flagship website Sify.com saw 36 per cent growth in number of visitors. In the previous quarter, Sify.com had managed a turnaround and delivered an operating profit. In May, the company partnered with Radio City 91.1 FM to launch Radio on Sify, allowing visitors on Sify.com to listen to Bollywood, Indi-Pop and other genres of music 24 hours every day online.
The company also launched a new set of prepaid broadband products and acquired SOHO/SMB customers from multiple industries including Manufacturing, Dealers, Professionals, Cyber cafes and Retail outlets. It claims a customer base growth of over 75 per cent over the last quarter.
Sify Software: The assessment services revenue doubled in Q1 over the previous quarter. Sify's engagement with the Indian government broadened and the company won the contract to build a Mission Mode project.
It launched a new Messaging product called SLEMS 11.0, which now includes improvements over its' previous version in collaboration functions like Calendar, Chat & Mobile Sync. With SLEMS 11.0 advanced functions, Sify now has the ability to offer solutions to both the mid and large corporations.
eLearning was expanded into Gulf countries. The unit is building online learning modules for an agency in the Middle East mandated with providing International Computer Literacy Skills certification.
---